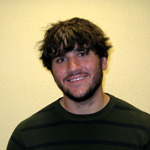 Recent Colorado College graduate Ethan Axelrod – who just happens to be the son of David Axelrod, longtime advisor, strategist and right-hand man to President Barack Obama – has been hired by the Huffington Post. Axelrod started yesterday as the editor of the Denver local vertical at HuffPo, reports Howard Kurtz at the Washington Post.
Per Kurtz: "He applied for the job, was interviewed by Arianna Huffington along with other candidates, and was tapped after submitting a mockup of the Denver home page." Axelrod, 22, who previously wrote for the Colorado College paper and has spent four years in the Denver area, has already started filing stories (his page, which goes live in September, currently shows a big, colorful splash across the top, suggesting he is being well-trained in the HuffPo arts).
According to sources inside HuffPo (disclaimer: I used to work there), Axelrod fils came into the New York office for an interview in June, along with other candidates, and has been training in the New York office this week. "He's a very nice, unassuming guy," one staffer told Mediaite. "He's smart, obviously – he comes from good stock."
Axelrod is not the first famous offspring to join the HuffPo ranks – Eliot Spitzer's daughter, Elyssa, is currently interning in the New York office, and Liz Hanks, daughter of Mr. Short-Term Memory, was an associate editor at the Living section before moving on to write for outlets like Glamour and The Awl. According to Kurtz, Axelrod the Younger comes by the journalistic proclivities naturally; his father was formerly a star political reporter for the Chicago Tribune before joining the ranks of those he once wrote about.
The Axelrod offspring have maintained a low profile, partially because their sister has been a more public part of the family's life: Older daughter Lauren Axelrod, 27, has epilepsy, and as a result David and wife Susan Axelrod have become very active in fighting the disease, founding CURE – Citizens United for Research in Epilepsy to raise funds and awareness to improve the lives of those living with epilepsy. In addition to Wilco, The Black Keys and Flight of the Conchords, Axelrod's public Facebook page proclaims him to be a 'fan' of CURE.
No doubt there will be chatter about HuffPo's relationship with the White House, which Kurtz characterized as "largely supportive of President Obama," as well as HuffPo's status as the blog of the "fashionable left" (Michael Kinsley to Politico). That's a given. (Let's face it: This hire won't make HuffPo less connected in D.C.) However, as the editor of the Denver local site, the younger Axelrod will be far more occupied with stories about green living, micro-brewed beer and funnily-named Denver Mayor John Hickenlooper than insidery Beltway shenanigans. Which, come to think of it, actually sounds like a pretty good prescription for the rest of us.
Related:
Axelrod's Son Hired by Huffington Post [WaPo]
For Huffington Post, left is right [Politico]
I Must Save My Child [Parade]
CURE- Citizens United for Research in Epilepsy [CURE]
Have a tip we should know? [email protected]