Everyone Is Losing It Over This News Report About a Little Girl's Prosthetic Leg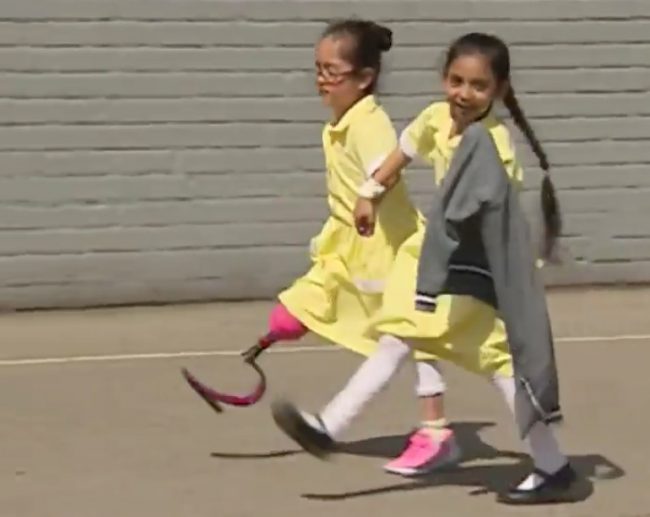 If you're stressed out lately, please know that there is still good, pure, and sweet news in the world.
The best example of this is a viral video featuring a little girl named Anu, who recently received a prosthetic sports blade that was custom made to fit her body. You've probably seen her all over your Twitter feed. The original video comes from BBC's Midlands Today and has gotten over 36,000 retweets in two days.
Anu is seven and goes to school in Birmingham. Look what happened when she showed her friends her new sports blade. It's just gorgeous!?‍♀️ pic.twitter.com/Aa1UlnhlQy

— BBC Midlands Today (@bbcmtd) May 3, 2017
It's been picked up by just about everyone since then, including those viral novelty Twitter accounts. The full-length video, available on Facebook, tells more of Anu's story.
The seven-year-old had her leg amputated soon after she was born and though she has had a prosthetic leg, this sports blade is much more versatile and allows her to run, dance, and swim. Her acquisition of the specialty blade is due to a government grant that is set to run out in March. There is no guarantee it will renew, so her father indicated he might be forced to put their house on the market to make sure she can have access to a new one when this one needs replacing.
Okay, we promised this would be a nice, fluffy story, and that part might have gotten a little somber, but for now, let's watch the video again. You can see Anu's friends reacting excitedly as she shows off her new sports blade. They hug her and then run around the playground with her.
Here's hoping this video keeps getting traction and funding for kids like Anu in the UK remains available.
[image: screengrab]
Have a tip we should know? tips@mediaite.com