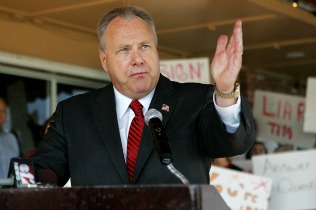 Former head of the Florida Republican Party, Jim Greer, made a statement Tuesday claiming the goal of Republican-backed changes in voting hours was specifically to suppress the vote among supporters of President Barack Obama.
Greer told the Palm Beach Post, "The Republican Party, the strategists, the consultants, they firmly believe that early voting is bad for Republican Party candidates." Greer claimed, "It's done for one reason and one reason only…'We've got to cut down on early voting because early voting is not good for us.'"
Florida Governor Rick Scott, a staunch Republican, changed the number of days available for early voting from 14 down to eight. Scott claimed he was trying to reduce voter fraud in the State, but Greer says this was a "marketing ploy." Greer also went on to angrily claim that Republicans would do anything to win because of their "absolute obsession with retaining power."
Greer acknowledged that changes to early voting hours would restrict the ability of minorities to vote in Florida, but insinuated this was also a specific goal of the Republican Party. Greer claimed, "The sad thing about that is yes, there is prejudice and racism in the party but the real prevailing thought is that they don't think minorities will ever vote Republican."
Scott's Independent predecessor, Charlie Crist, agreed with Greer, stating, "The only thing that makes any sense as to why this is happening and being done is voter suppression." Crist went on to call Governor Scott's actions "indefensible," "unconscionable" and "the wrong thing to do."
Some may question Greer's credibility, as he was forced to resign from his post as Florida's GOP chair after allegedly embezzling money. His case is currently awaiting trial.
Have a tip we should know? tips@mediaite.com