Ex-GOP Rep. Calls Out Paul Ryan: You'd Be Looking Into Impeachment if Trump Was a Democrat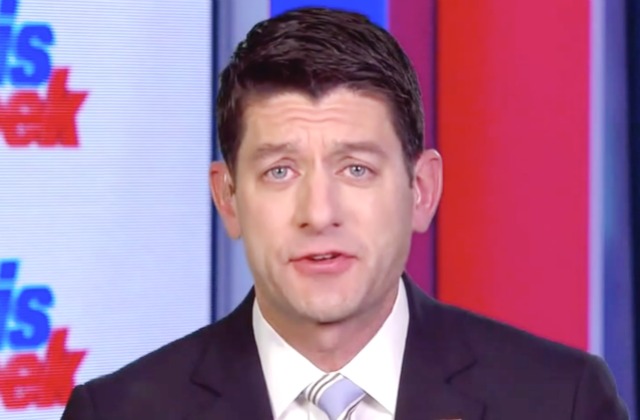 A former Republican congressman called out Paul Ryan on Twitter after the James Comey hearing yesterday.
On Thursday, Ryan defended President Trump on his conversations with Comey, saying, "The president's new at this. He's new to government, and so he probably wasn't steeped in the long-running protocols that establish the relationships between DOJ, FBI and White Houses. He's just new to this."
At one point, a reporter asked him if he would be already calling for impeachment if Trump was a Democrat. Ryan said, "I don't think we would, actually."
Former Rep. Bob Inglis (R- SC), who runs the Energy and Enterprise Initiative at George Mason University, took to Twitter to call him out and say that he should put the country first:
.@SpeakerRyan you know this isn't true. You know that you would be inquiring into impeachment if this were a D. https://t.co/mBFn4aCGi4

— Bob Inglis (@bobinglis) June 9, 2017
.@SpeakerRyan, no, it isn't time to draft Articles of Impeachment. But it is time to pursue the Russia investigation with vigor.

— Bob Inglis (@bobinglis) June 9, 2017
.@SpeakerRyan and if the investigation leads to the Pres., his family or his campaign, so be it. Don't obstruct justice. Put country first.

— Bob Inglis (@bobinglis) June 9, 2017
Inglis is not a fan of the president––to put it lightly––and during the campaign he said he was "very proud" of Ryan after Ryan said he wasn't ready to support Trump.
And when CNN's Jake Tapper pointed out how Inglis had voted to impeach Bill Clinton, Inglis said this in response:
Yes, I was on Judiciary Cmte that impeached Clinton/sent him for trial in the Senate for matters less serious than the ones before us now

— Bob Inglis (@bobinglis) June 9, 2017
Correction: Inglis previously served as a congressman from South Carolina, not Georgia, as a previous version of this post stated
[image via screengrab]
— —
Follow Josh Feldman on Twitter: @feldmaniac
Have a tip we should know? [email protected]
Josh Feldman - Senior Editor