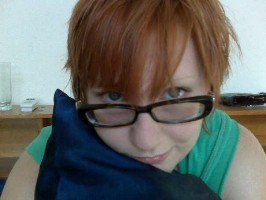 On the heels of an AP report on Elle magazine's hiring of a homeless blogger for an internship, backlash is already fomenting on the interweb. It is an appealing notion, that hoity (and indeed, toity) fashion mag Elle is looking for a pat on the back for doling out crumbs. Perhaps the angst is helped along by the AP's characterization of the story as a "21st century fairy tale."

Marshall Kirkpatrick points out that Brianna Karp's $150-a-month pay for 24 hours of work is less than California's minimum wage, and wonders if the positive press that Elle is getting here might be worth a little more than that.
So, is Brianna Karp Cinderella, or Sisyphus? I emailed Bri to get her take on the whole thing.
Tommy Christopher: How would you respond to critics of Elle who say they're exploiting you?
Brianna Karp: I would say that's ridiculous. E. Jean Carroll made a kind offer to a girl down on her luck and the offer had been made for a month before anybody (including me) even noticed because ELLE didn't publicize it or make any effort to call attention to it. If the media had never gotten hold of it, it would have been between me and ELLE and nobody else would have ever known. The offer was certainly not made because they expected any sort of publicity from it.
TC: The salary the AP mentions, $150 a month for 24 hours of work, is below California's minimum wage.

BK: This is an internship. Most internships, as I'm sure you know, are unpaid. The whole point of an internship is that it is unpaid and opens doors for the intern which would not have previously been a possibility, and I accepted the internship offer assuming that it would be unpaid, before any sort of money was even mentioned, because I know how much this could help me down the line. The monthly stipend E. Jean later offered me is a bonus and very generous, by internship standards. She was also kind enough to tailor the internship to my personal circumstances (making it a flexible, hour per day telecommute) so that I could continue to look for work, as I have been doing.

TC: AP says you're also writing for Elle.com. Are you able to give any details on that?

BK: ELLE has generously offered me a forum to blog on their website, fashion.elle.com. I appreciate the platform with which to share my experiences with a wider audience; as well as get people talking about the issue of homelessness. My hope is to use the face time I have been given to call attention to homeless individuals of all backgrounds, especially those who have it far worse off than I did/do.

TC: Has the publicity resulted in other job offers/sponsorships?

BK: No job offers just yet, although I do have some upcoming job interviews resulting from résumés that I had submitted before the story broke (in fact, I have an interview tomorrow). Nobody has specifically seen the story and called offering me a job yet, which is fine by me – I am hopeful that I can score a good job on merit, talent, and a great résumé!
There are many more details about the job on Bri's blog, which I encourage you all to read.
This is not a Cinderella story, nor is it a tale of cynical compassion-whoring. While Bri calls E. Jean's offer "kind," the fact is she scored it on the strength of a bold, honest pitch to the Elle columnist. I appreciate her willingness to be judged on her merits, and to be paid on them. The vagaries of blogging/intern pay are a separate issue entirely.
When I covered the Presidential Inauguration for Political Machine, I got to spend the night with some of DC's homeless people, and I discovered something that Bri's story enunciates. I met a woman, a disabled Desert Storm vet, who works 40 hours a week and still lives in a homeless shelter. These aren't folks who are lazy, or looking for a handout.
I also noticed that there is a multi-layered microcosm of homelessness, where people like Tanonah are separated from its lowest rung by miles of opportunity, but only inches of misfortune.
Bri is lucky, as homeless people go, but she's also one "blue screen of death" away from being unable to make a living, and faces challenges that the rest of us can only imagine. Her blog, and her job with Elle, are tributes to her resourcefulness. Her dedication to those less fortunate is a tribute to her character.
Have a tip we should know? tips@mediaite.com