Exclusive: Melissa Harris-Perry In Final Talks With Fusion To Get Her Own Show on Struggling Channel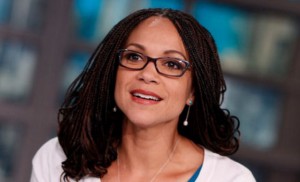 Editor's Note: Two sources told our Joe Concha that Melissa Harris-Perry was getting her own show on Fusion. Concha, through his sources, remains confident that is true. While this was initially described as a done deal, it appears via conflicting responses from Fusion PR (who declined comment) and Ms. Harris-Perry (who is now denying the report) that an official deal may not yet be inked. Mr. Concha checked with his sources again and now adds this additional detail: Harris Perry herself was apparently telling her former staffers that she was preparing for her own show at Fusion and inquiring about their interest in moving over with her. That certainly makes her denial below all the more confusing.
— —
Melissa Harris-Perry — whose very public, acrimonious departure from MSNBC made major headlines just two weeks ago — has found a new home.
According to two sources close to the situation, Ms. Harris-Perry will be joining Fusion TV, a channel that is a joint venture between Disney/ABC and Univision founded in 2013. Fusion is based Doral, Florida (near Miami) and has studios/offices in New York, Washington, D.C., Boulder, CO., and Oakland, CA.
Harris-Perry, 42, will be given her own program, sources say. The program will likely mirror her former offering on MSNBC, which was seen weekend mornings from 10:00 AM-12 noon EST. Said program — dubbed MHP — aired from February of 2012 until last month. The show was quickly cancelled after the host refused to appear on her own program after becoming upset her show — like many others on the network — was pre-empted the previous two weekends due to ongoing live election/campaign coverage largely from the field.
The Wake Forest professor proceeded to write a scathing (arguably petulant) email to staff regarding her so-called poor treatment, even going so far to directly point the finger at NBC News Chairman Andrew Lack and MSNBC President Phil Griffin. The email — which quickly was leaked to the New York Times — included the following:
"I will not be used as a tool for their purposes. I am not a token, mammy, or little brown bobble head. I am not owned by Lack, Griffin or MSNBC. I love our show. I want it back."
MSNBC and Harris-Perry officially "parted ways" shortly thereafter, with a network rep calling her comments "really surprising, confusing and disappointing." She has since taken to Twitter to continue to take shots at some network personnel members while apologizing to others. One would think someone who finds being a team player so challenging would be off any network's list of potential hires, but Fusion appears to be moving ahead on this front. Sometimes controversy is attractive to those who looking to draw eyeballs to a struggling network in this business, and Harris-Perry certainly brings that aspect to the table.
What Fusion should be more concerned with was her performance from a ratings perspective: Almost-always fourth (out of four) in the key demo on a weekly basis in her timeslot. In a related story, Fusion's mission statement is to target younger audiences, primarily Hispanics who speak English, on television and on the web. But it's one thing to have a plan and the backing of a juggernaut like Disney, it's another entirely to execute. And to this point, Fusion simply hasn't.
During its first fiscal year of operations in 2014, the venture reported losses in excess of $35 million. According to the New York Times, the company is now in talks to sell its 50 percent stake (2015's numbers aren't available yet) Correction per Alex Weprin's February 23rd, 2016 story in Capital New York):
Fusion more than doubled its revenue from 2014 to 2015, going from $28.1 million in 2014 to $63.5 million in 2015.

More importantly, Fusion also slowed the rate of its losses, losing $37.6 million in 2015, compared to losses of $35 million in 2014, and $27.3 million in 2013. . Fusion had projected that its television network would be profitable in 2016, and that the digital side of operations would be ahead of internal expectations.
Here's all you need to know: Last June, Variety put out a survey via market research company Digitalsmiths asking 3000 polled which channels they would be willing to pay for if they had the opportunity to custom-program their cable package. Fusion came in last. Dead last. Ratings for the network are so low, Nielsen can't even measure them.
The solution? Sign a last place, recently disgruntled-for-no-real-reason, race-obsessed, marginally-talented host to help save the channel from itself.
It is not known at this time when Harris-Perry's Fusion program will launch, nor when it will air in its schedule.
Either way, the former MSNBC host has found a new home much sooner than expected.
Now here's hoping Fusion doesn't have to — God forbid — bump the new MHP offering once or twice in a row. Because as we've seen before, those otherwise-normal situations don't end very well.
Fusion TV Public Relations has not returned a request for comment. If that does occur, the story will be updated accordingly.
UPDATE: We received a "no comment" from Fusion PR, but Harris-Perry responded directly via Dylan Byers below:
LOL @Mediaite! Fusion? Really? SMH Y'all *know* I have a job @WakeForest right? Just call if you want to know what's up.

— Melissa Harris-Perry (@MHarrisPerry) March 11, 2016
I just asked Melissa Harris-Perry (@MHarrisPerry) if this was true. She said: "Hell no." cc @Mediaite https://t.co/fNSHNzowZV

— Dylan Byers (@DylanByers) March 11, 2016
See above for editors note.
— —
Follow Joe Concha on Twitter @JoeConchaTV
This is an opinion piece. The views expressed in this article are those of just the author.