Expert Warns: Deadly San Andreas Fault in Southern California 'Locked, Loaded, and Ready to Roll'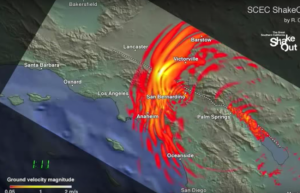 "The Big One" is a phrase that you will often hear throughout communities in South California to describe the hypothetical earthquake that many believe is likely to strike in our lifetimes. Well, now that situation is closer to reality than ever before.
At least that's according to Thomas Jordan, the director of the Southern California Earthquake Center, who gave the opening keynote address Wednesday at the National Earthquake Conference in Long Beach. The nightmare scenario that plays out in the minds of countless seismologists and geological experts in the region centers around the San Andreas Fault, the longest faultline in California that runs directly through some of the state's most densely populated regions.
A magnitude-7.9 quake ruptured there in 1857, affecting, "an astonishing 185 miles between Monterey County and the San Gabriel Mountains near Los Angeles," according to the Star Tribune.
In his Wednesday address, Jordan said, "The springs on the San Andreas system have been wound very, very tight. And the southern San Andreas fault, in particular, looks like it's locked, loaded and ready to go."
One of the primary concerns has to do with the amount of relieved stress that the tectonic plates take on annually; the San Andreas Fault is particularly concerning to experts because it has been building up for over a century. The Fault does not run directly through Los Angeles — narrowly missing Downtown LA by about 30 miles — but its proximity to the heavily-populated part of the city leaves many concerned for a deadly quake that could leave thousands dead.
After last year's deadly 7.8-magnitude tremor in Nepal, experts estimated that a comparable quake in SoCal would be deadly beyond comprehension. The LA Times reported last April:
According to estimates by the U.S. Geological Survey and Southern California Earthquake Center, a massive quake on the Puente Hills fault, which runs directly beneath downtown L.A. and the San Gabriel Valley, could kill 3,000 to 18,000 people. Experts consider this one of southern California's worst-case quake scenarios.
…
About 1,600 fires would be expected, with lamps overturning, electrical wires shorting and natural gas lines bursting. Many fires would grow out of control as firefighters struggled to get fire engines across damaged roads and water stopped coming out of their hoses. Officials estimated that fire alone could cause 900 deaths.
Six years ago, the LA Times deemed the likelihood of a San Andreas quake as "long overdue." A YouTube video produced by the Southern California Earthquake Center shows a progression of a hypothetical earthquake along the San Andreas Fault:
At the conclusion of his remarks, Jordan credited Los Angeles Mayor Eric Garcetti for his work to push for quake-proof retrofits for apartments and concrete buildings in the city. Jordan said of the Mayor's efforts, "It's remarkable that this happened. We know politically how difficult it is to make these kinds of changes."
[h/t Star Tribune]
Have a tip we should know? tips@mediaite.com