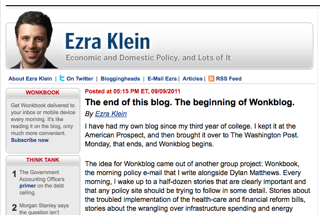 Washington Post columnist and MSNBC contributor Ezra Klein's economics and policy blog as we know it is closed for business. Yesterday evening, Klein announced that he would be writing for a new blog called Wonkblog a collective– located at the same URL– written by himself and the collaborators regularly featured on his current site.
Klein explains that the major change from old to new site will not be the material, but the design, which will be more amenable to multiple writers and topics than the single column format used now:
The site, as you'll see tomorrow, will also be undergoing a substantial redesign: It will be much more navigable, with more ways to sort content (say, by author or subject) and find new posts you might be interested in. It will be quicker to load, and easier to read. It will also include some features and tweaks that have long been on the wish list: the ability to easily print articles, for instance, or to keep them atop the page. There will also be more weekend content, including a regular collaboration with LongReads.com on a weekly roundup of the best long-form policy stories.
Joining Klein will be regular contributors Suzy Khimm, Sarah Kliff, and Brad Plumer. As Klein explains, the content will remain significantly the same but will add some new features, like a collaboration effort with LongReads.com It will also contain elements of the morning newsletter Wonkbook, which has been employed as a supplement to the blog for some time. The site will be up and running on Monday.
Have a tip we should know? tips@mediaite.com