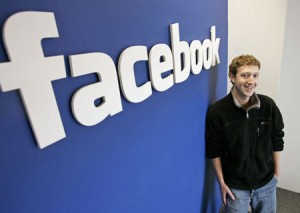 The sluggish U.S. Patent and Trademark Office has finally responded to Facebook's 2005 application to trademark the word 'face' with a notice of allowance, which is a bureaucratic way of saying "Go for it." The company "now has six months to show that is uses the trademark," ABC News reports, after which the Trademark Office will decide whether to grant final approval. Oh, and there's a fee, of course—Mark Zuckerberg will have to part with $100 to complete the claim.
It'll surely pay off in the long run, despite the fact that the potential trademark wouldn't apply in all situations—but enough to make Mashable afraid:
The trademark covers the word face only in the context of "telecommunication services, namely, providing online chat rooms and electronic bulletin boards for transmission of messages among computer users in the field of general interest and concerning social and entertainment subject matter, none primarily featuring or relating to motoring or to cars," the pending document reads. While the context in which the trademark can be enforced is quite narrow, it's still scary to see Facebook owning a trademark for a term as general as "face."
And this isn't the only time the social-media giant has tried to achieve such a feat. According to InsideFacebook, the company "has at least 15 trademark applications around the 'like' buttons it launched in April, some of which cover the word 'like' itself." The word 'book' isn't off-limits from Facebook either, as was demonstrated by their lawsuit against Teachbook. It appears that they're also trying to own the word 'overzealous' as well.
Have a tip we should know? tips@mediaite.com