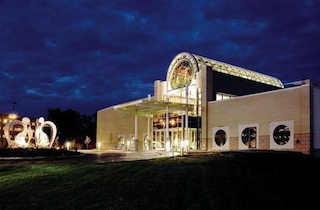 Two shootings were reported at Jewish sites in Kansas City Sunday afternoon, leaving at least one person dead, according to authorities.
Shots were reported fired at the Jewish Community Center of Greater Kansas City at about 1 p.m., followed by a report of shots at Village Shalom, an assisted living center nearby. Village Shalom has been placed on lockdown.

It is unclear whether the two shootings are related.
UPDATE 3:33 p.m.: Police now say one person was killed at each location, with a third critically injured.
UPDATE 3:54 p.m.: This is not proceeding well:
A suspect was arrested at the Valley View Park Elementary School, which is a mile away from Village Shalom. KCTV5's Bonyen Lee says the suspect appeared to yell "Heil Hitler" as he was being led away in handcuffs by Overland Park police.
UPDATE: 4:42 p.m.: According to the Associated Press, a third person has now died from the shooting.
UPDATE: 5:20 p.m.: The Jewish Community Center of Greater Kansas City posted the following to their Facebook page: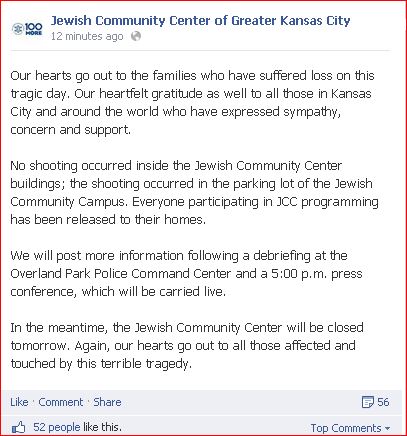 UPDATE: 6:20 p.m.: Watch the News Conference on the shootings below:
Watch a CNN report on the shooting below:
UPDATE 10:16 p.m.: The Anti-Defamation League issued a statement condemning the "heinous and unspeakable acts of violence." Meanwhile, The Boston Globe provides some detail into what the suspect in custody looks like, reporting "Footage from local television stations showed a heavyset, bearded man wearing glasses being led away in handcuffs by police officers."
UPDATE 10:47 p.m.: CNN reports that investigators believe the suspect has connections to white supremacist groups.
UPDATE 11:04 p.m.: CNN is now identifying the suspect as Frazier Glenn Cross. Below you can see an image captured of the suspect by KSHB.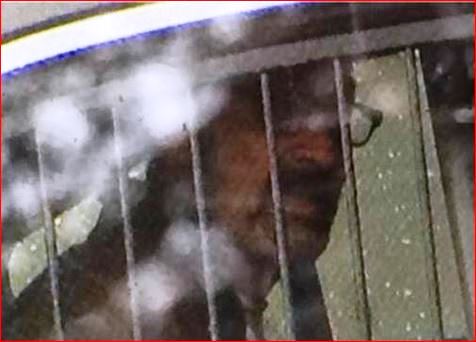 [Image via screengrab]
——
>> Follow Evan McMurry (@evanmcmurry) on Twitter
Have a tip we should know? tips@mediaite.com