FBI Launches Internal Probe To Determine If Shooting Man Linked To Boston Suspect Was Justified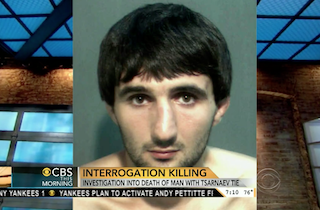 The FBI is conducting an internal review to examine whether shooting Ibragim Todashev, who was linked to one of the Boston bombing suspects, was justified, Wyatt Andrews reported on Friday's CBS This Morning. New reports say Todashev attacked an agent and went at him with a metal pole before being shot.
"A law enforcement source familiar with the shooting has confirmed to CBS News the agent did fire his gun six times, but the source also says he had attacked the agent with a table, thrown him into a wall and was still moving forward with something in his hand as the agent kept shooting," Andrews elaborated. The review group will now be asking if that account checks out, and if this was reasonable defense."
John Miller also contributed to the report, adding in some details. At the interrogation session during which Todashev was shot, he was reportedly writing out a confession about the triple homicide in the Waltham, Mass.
The state trooper who was in the room noticed Todashev was getting "more and more agitated," he said. "And then…he did something very interesting. Rather than alert the agent and tip off Todashev that they sensed something was about to happen, he texted the agent saying, be careful."
It was when the agent looked at the text that Todashev knocked over the table. The state trooper never got his gun out because he said it would have been too dangerous in the tight place.
Yesterday Todashev's father said in a news conference in Moscow that his son was "100 percent unarmed" and the FBI killed him "execution style."
The report below, via CBS News:

Have a tip we should know? tips@mediaite.com