FBI Sends Letter to Senate Judiciary Committee to Clarify James Comey Testimony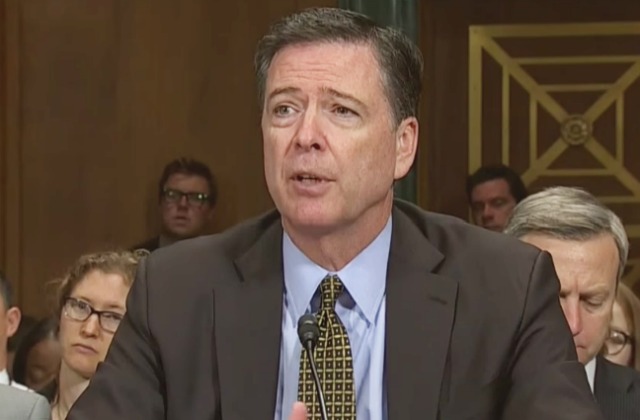 By now you've likely seen the reports that FBI Director James Comey "misstated" facts about Huma Abedin's emails in his testimony last week. Well, today the FBI sent a letter to the Senate Judiciary Committee to clarify his testimony.
The letter explains that the FBI wishes to "supplement that testimony to ensure that the Committee has the full context of what was reviewed and found on the laptop."
This is the crux of what they had to say on the matter:
Director Comey spoke of hundreds and thousands of e-mails being forwarded from Ms. Abedin to Mr. Weiner's laptop computer. This included e-mails transferred via backups as well as manual forwarding. Our investigation determined that Ms. Abedin commonly forwarded emails to others who would print documents for her. Although we do not know the exact numbers, based on its investigation, the FBI believes it is reasonable to conclude that most of the emails found on Mr. Weiner's laptop computer related to the Clinton investigation occurred as a result of a backup of personal electronic devices, with a small number a result of manual forwarding by Ms. Abedin to Mr. Weiner.
And then they get to some of the numbers:
Investigators identified approximately 49,000 emails which were potentially relevant to the investigation. All were reviewed with a particular focus on those containing classified information. Investigators ultimately determined that two e-mail chains containing classified information were manually forwarded to Mr. Weiner's account. Ten additional chains containing classified information also were found on the laptop computer as a result of backup activity. All twelve chains previously had been reviewed by investigators.
The letter does not come from Comey himself, but Gregory Brower, the assistant director for the Office of Congressional Affairs.
You can read the full letter here.
[image via screengrab]
— —
Follow Josh Feldman on Twitter: @feldmaniac
Have a tip we should know? tips@mediaite.com
Josh Feldman - Senior Editor