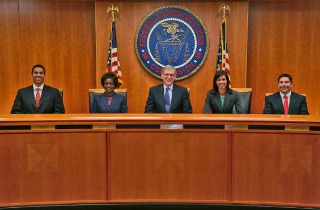 The chairman of the Federal Communications Commission responded to net neutrality critics after a new policy was announced Wednesday night, saying that the criticism is completely wrong and that the only change being made is "fast lane" access to be worked out between ISPs and certain content providers. In other words, the FCC will allow for "commercially reasonable" agreements between both parties, the definition of "reasonable" to be worked out by the FCC.
The FCC had previously been trying to keep net neutrality in place, but now content providers will be able to work out financial arrangements with service providers that will provide faster access to its users. But for anyone who thinks this marks the death of net neutrality as we know it, FCC Chairman Tom Wheeler shot back, "There are reports that the FCC is gutting the Open Internet rule. They are flat out wrong."
Wheeler also posted to the FCC blog to clear up exactly what the new rules mean and refute "incorrect accounts."
To be very direct, the proposal would establish that behavior harmful to consumers or competition by limiting the openness of the Internet will not be permitted…

The allegation that it will result in anti-competitive price increases for consumers is also unfounded. That is exactly what the "commercially unreasonable" test will protect against: harm to competition and consumers stemming from abusive market activity.
Wheeler insists that the FCC will still protect consumers and will demand transparency from all ISPs.
[h/t The Hill]
[photo via FCC]
— —
Follow Josh Feldman on Twitter: @feldmaniac
Have a tip we should know? tips@mediaite.com
Josh Feldman - Senior Editor