Ferguson Protestor, Once Lauded for Non-Violence, Arrested for Arson and Burglary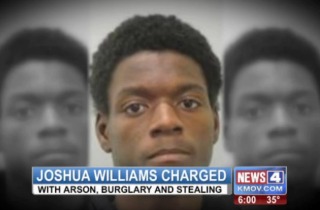 A Ferguson protestor well-known for promoting peaceful protests was arrested and charged with felony arson and burglary of a convenience store on Christmas Eve. Joshua Williams, 19, was profiled by MSNBC back in September in which he said violence does not advance their cause.
"I learned that we have to stand up and that you can't get nowhere with violence but you can always move people without it," Williams told MSNBC in the profile. "I remember one night the police fired tear gas at us and I picked one of them up and threw it back at them. And the more we threw them back they just kept firing them back at us. It's like it never stopped. I said to myself, we need another plan. This isn't working."
Despite vowing to seek a different plan of action, Williams seems to have ignored his own advice. Arrested on Friday, he admitted to looting and setting fires inside and outside of a QuikTrip convenience store on Christmas Eve in Berkeley, Missouri following the shooting death of 18-year-old Antonio Martin. According to KMOV, surveillance video and news cameras helped police to identify Williams. Police say he stole a lighter, some gum and an "undisclosed amount of money" from the store.
The St. Louis Post-Dispatch reports that some gathered outside the St. Louis County Justice Center to protest Williams' arrest, saying images from the surveillance videos are not clear enough — even though Williams confessed to the crimes.
Protesters not being let in the Injustice Center to visit @therealjosh95. Looks like the building is under arrest. pic.twitter.com/bEBXjSTuNP

— Search4Swag (@search4swag) December 27, 2014
Here are a few of Williams' tweets from the night in question:
Evrey body get out to n Hanley and frost now there been another kid shooting

— Josh (@therealjosh95) December 24, 2014
Hey yall we in Berkeley tonight we gone to shut shit down tonight to the streets then the highway we fin to show the momma we with her at 6

— Josh (@therealjosh95) December 24, 2014
We need help out hrre in Berkeley mo police are body slamming ladys and elderly women we need more body asap thanks

— Josh (@therealjosh95) December 25, 2014
Elderly number four is out

— Josh (@therealjosh95) December 25, 2014
And another from the day he was arrested and confessed to the crimes:
Marry Christmas to my strong people who is fighting the fight in Ferguson and all my people who lost their child to stupid ass police

— Josh (@therealjosh95) December 26, 2014
Watch KTVI's report on the incident, which includes close-up footage of Williams setting fire to the store (Note: video autoplays):
And KMOV's report:
[Image via screengrab]
— —
>>Follow Andrew Desiderio (@forza_desiderio) on Twitter
Have a tip we should know? tips@mediaite.com