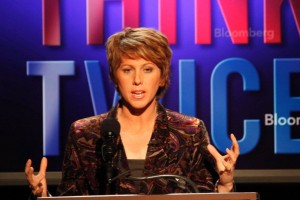 Mail.com Media Corporation (MMC,) the parent company of Nikki Finke's Deadline.com, has issued a cease and desist against The Wrap, the industry news and gossip site created by Finke's sometime friend and longtime rival Sharon Waxman (pictured). Merely Googling "Nikkie Finke Sharon Waxman" brings up a laundry list of articles breathlessly (and, often, sarcastically) covering their ongoing feud.
According to the document prepared by attorney Bryan J. Freeman, The Wrap is accused of allegedly "borrowing" content from Finke's posts. Writes Freeman:
I am contacting you because it has become apparent that TheWrap.com and its employees have engaged in a continuous pattern of misappropriating content from Deadline.com, publishing that information on TheWrap.com, passing off that information as its own, and doing so without compensating or even crediting Deadline.com. In many instances, TheWrap.com's misappropriation involves the wholesale copying of substantial portions of articles posted on Deadline.com.
Finke weighed in on Deadline, adding that using her website's scoops and "merely calling a studio or network and saying, 'Is this correct?'" doesn't add up to journalism.
You might recall, that, in April of 2010, Waxman dealt with a similar issue when The Wrap handed Michael Wolff's news aggregation site, Newser, a cease and desist of its own, taking issue with the manner in which Wolff's site "free-rides on The Wrap's sweat of the brow by publishing summaries of these stories without affording The Wrap appropriate credit and a prominent link."
And so: It's on. Yet again.
Have a tip we should know? tips@mediaite.com