Fired Former Fox President, Stephen Chao, Randomly Pops Up On Reddit To Answer Questions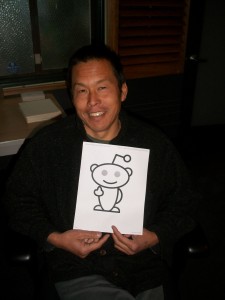 Stephen Chao was the president of Fox Television for 10 weeks in 1992 before he was fired by Rupert Murdoch for hiring a male model to strip during a speech on Standards and Practices given to Murdoch as well as Dick Cheney. Since then, he's branched out into all sorts of areas and, apparently, become interested in Reddit. So, a couple of hours ago, he made a post explaining who he was and offering to answer any user-submitted questions. His answers have been as fascinating as his career.
Here are some examples of the answers so far:
"CoinTrap
Just out of curiosity, what possessed you to hire a male stripper for a corporate event? Did it make sense for the talk you were giving or was it more of a silly thing that you thought would be funny with no repercussions? Also, now that you are away from Fox, doing your own thing, do you find life less stressful?

stephenchao
In the Netherlands in the 60's, the government decided to allow nudity on television, while simultaneously banning violence. This was their emphatic statement that violence was not acceptable, and that human nakedness would be (previously banned) acceptable. They wanted to realign television standards and practices to mirror their view of what was social versus anti-social. To demonstrate this policy shift, the government filmed a naked person for 24 hours on national television, a kind of Warholian exercise in the mundane. It made a huge point in terms of standards and practices. Violent movies/tv shows were taken off national television. In my opinion, a bold move by the Government that radically adjusted the Standards and Practices of a population. In my speech, I was discussing the Netherlands television example and posing the question whether the sight of a naked person was more offensive than seeing a violent murder of a person. I happen to believe the Netherlands government did a very positive thing….that would be difficult to pull off in the context of a puritanical FCC."

…

honkytonks
what kind of directives came down from Murdoch on high? I understand you may have been more entertainment focused and not the news division, but was there ever communication from the Sith lord?

stephenchao
He is a journalist through and through. He just wanted a great story with aggressive reporting, plain an simple. There certainly was never a political directive. I ran the News Division for Fox. After I was fired, Roger Ailes took over, and I cannot speak to his point of views. In my opinion he has totally revived the Wall Street Journal. It is fun to read again. People naturally want me to talk crap about him, having been fired by him. But I have to say he is the one great media executive alive today. He is fearless in pursuing markets and stories that have a populist underpinning. And he loves it.

…

Sugarlessgum
'Crossing Over' With John Edwards was picked up by USA during your time as president of programming there. Regardless of whether you believe in the paranormal, do you believe -John Edwards- truly has the ability to communicate with the dead?

stephenchao
I just had this conversation with a friend this week. He kept offering to 'read' me, but out of professionalism I declined. I wish I had. Ultimately, I think he gets it (amazingly) right 2% of the time, and the other 98% of the time, he is dancing and twisting. Like mentalism and magic, I don't believe he has a gift. I think he has very smart devices that play on the emotional desire we all have to believe. With that said, he was able to read things that were just incredible: he knew that Winston cigarettes were in the grave of a woman who died of cancer. I still cannot explain that one."
Cool stuff. Check out the ongoing thread to read more information about the weirdest pitch he ever received, why he flipped burgers for McDonalds after leaving Fox, and his current relationship with Murdoch. You can even try to submit a question of your own.
Have a tip we should know? tips@mediaite.com