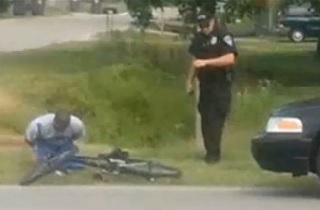 While many liberals have been celebrating the recent federal court ruling on New York City's Stop and Frisk policy (as conservatives predictably freak out), I've been hesitant to break out my celebratory flashlight and keychain, and the story of an Indiana firefighter's run-in with police the day after the ruling helps to illustrate why.

Firefighter George Madison, Jr. was riding his bicycle when he made the fateful decision to wave at an Evansville Police cruiser, which of course ended with Madison face-down in handcuffs:
"The officer jumped out and says, 'What are you doing throwing your hands up at us?'" Madison recalled. "He is talking to me as he is coming toward me. I tried to explain, but I couldn't get a word in edgewise."

Madison said that he knew Evansville Police Chief Billy Bolin from community events, so he took out his cellphone to call him for help calming the situation. But the officer told him to put the phone down. And when he hesitated, the Taser came out.

"It was literally maybe inches from my face," the father of four said. "I immediately threw my hands in the air. What he asked me to do I was more than willing to do. I said 'Please don't hurt me.' The next thing I know I'm laying down the ground and they cuffed me."
Apparently, the cops thought he was giving them the finger, but chilled out when they found out who he was. According to this news report, from WTVW, the incident is under investigation, and Madison says he doesn't think race was involved in the stop:
14 News, WFIE, Evansville, Henderson, Owensboro

As these stories go, this one has a relatively happy ending. No one got shot, and no puppies were injured. Mr. Madison appears to be displaying generosity here, to officers who are part of a first-responders community that he belongs to. Even if you give the officers the benefit of the doubt that they didn't target him because he was black, I can tell you, as a lifelong white person, that they wouldn't have done that to a white man.
What is fairly obvious is that Mr. Madison's position as a firefighter helped get him out of the situation, a respectability card that white people carry by default. What's also striking about this story is the way the police talk about the incident, in a language that seems to be invented for occasions such as this. Here's what the dispatcher's notes said:
Officers initially seen Mr. Madison on S. Weinbach ave at the intersection of S. Weinbach Ave and E Riverside Dr. Officers were southbound on S. Weinbach Ave and Mr. Madison was northbound on S. Weinbach Ave. Officers stopped at the stop sign and proceded to turn left onto E Riverside Dr. Mr. Madison failed to stop on his bike and continued through the intersection. Mr. Madison then raised his right arm in a apparent aggravated manor at officers. Officers turned around and stopped Mr. Maddison at Weinbach and Kathleen. Officers started to explain to Mr. Madison why he was being stopped. Mr. Madison quickly pulled out his cell phone and began making a phone call. Mr. Madison was advised to put his cell phone away while officers were attempting to speak with him about the incident. Mr. Madison refused to put his phone down and told officers to hold on a minute. Officer Clegg reached for Mr. Madison's phone and Mr. Madison postured up and pulled his arm back in a aggressive manor.
If those weird descriptions of ordinary movements sound familiar, at least in spirit, you might have also heard of the man who was recently shot down in his driveway because police said he "lunged" out of his car, or the Florida 14 year-old who was choked out by cops for shooting deadly "dehumanizing stares" at police. If you're trying to think of a catch-all description of these offenses, you couldn't do much better than "furtive movement," the pretext for more than half of New York City's Stop and frisk stops.
The federal court decision declaring New York's Stop and Frisk practices unconstitutional is welcome in that it clearly tells cops that racial profiling is not okay, but it won't end racial profiling, it will just force cops to become better at getting away with it. If Mr. Madison had been an unemployed black guy in a hoodie, you would never have heard his story, and he'd probably just now be getting bailed out of jail on a disorderly conduct charge.
If Roy Middleton had been rummaging for a cigarette while parked on a city street, his story wouldn't have made the papers. If Tremaine McMillian hadn't been videotaped in a choke hold, he'd be just another troublemaker with a story to tell. The Stop and Frisk plaintiffs presented tape recordings of supervisors ordering cops to target black men, and videotapes of clearly abusive stops, and without them, who knows if that case would have even gotten into court.
But there are millions of people who don't have any of the advantages of these high-profile victims, people who will continue to be harassed on pretextual grounds, people who will not be believed. The Stop and Frisk ruling simply restores racial profiling to the thinly-veiled status it once enjoyed. On top of that, it gives the media a sense of accomplishment, an excuse to stop paying attention to this and go back to freaking out about phone bills.
[photo via Facebook]
Have a tip we should know? tips@mediaite.com