'Fix This Now': Indy Star Gives Entire Front Page to Editorial on 'Religious Liberty' Law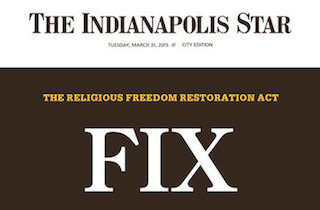 The Indianapolis Star gave its full front page Tuesday morning to an editorial calling upon Governor Mike Pence (R) and the Indiana legislature to address the so-called "religious liberty" bill, which has sparked an enormous backlash in the days since it was signed.
"Governor, Indiana is in a state of crisis," the editors wrote, citing damage to the state's reputation and business community. "It is worse than you seem to understand."
Both critics and supporters of the Religious Freedom Restoration Action argue that it could allow businesses to claim a religious exemption to deny service to gay and lesbian customers. Plenty of other states have RFRAs, but Indiana's is the most far-reaching and potentially discriminatory so far, especially as Indiana does not include LGBT citizens as a protected class against discrimination.
RELATED: Indiana Lawmakers: We're Working to 'Fix' Controversial Law
"Gov. Mike Pence and the General Assembly need to enact a state law to prohibit discrimination in employment, housing, education and public accommodations on the basis of a person's sexual orientation or gender identity," the editors wrote. "Those protections and RFRA can co-exist."
The editors urged Pence to model a fix off anti-discrimination laws in Indianapolis, though some fear the RFRA could ultimately be used to challenge those laws. Pence has said in multiple interviews that he intends to "clarify" the bill, but affirmed he had no intention of making gays and lesbians a protected class.
"We urge Gov. Pence and lawmakers to stop clinging to arguments about whether RFRA really does what critics fear; to stop clinging to ideology or personal preferences; to focus instead on fixing this."
Pence had his own op-ed in the Wall Street Journal last night, insisting the bill was not a "license to discriminate."
View the cover below, via the Newseum: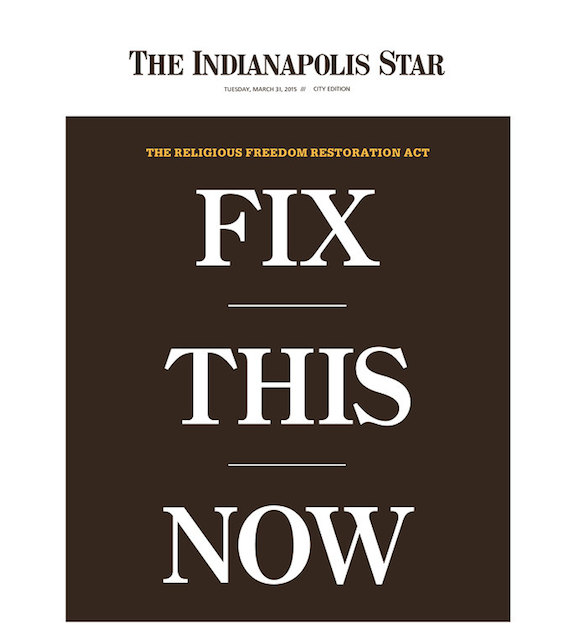 [h/t Indy Star]
[Image via screengrab]
——
>> Follow Evan McMurry (@evanmcmurry) on Twitter
Have a tip we should know? tips@mediaite.com