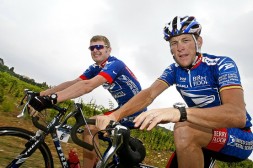 Here's a story that's likely to knock Rand Paul's double take inducing civil rights remarks out of the news cycle for a couple of hours, at least. Cyclist Floyd Landis, who won the Tour de France in 2006 only to lose his title amidst doping charges, which at the time he denied, has now decided to cop to them. There's more: Landis is also charging that Lance Armstrong used performance enhancing drugs. From today's New York Times:
After four years of maintaining his innocence about doping charges that ruined his reputation and caused him to be stripped of his 2006 Tour de France title, the American cyclist Floyd Landis has sent e-mail messages to several cycling officials in the United States and in Europe in which he admits using performance-enhancing drugs for most of his career.

Two of those officials said that Landis's messages provided a detailed description of doping that began in 2002, Landis's first year alongside then-teammate Lance Armstrong. Both were riding for the successful but now-defunct United States Postal Service team. The two officials who received the e-mail did not want their names published, citing ongoing investigations, including by federal authorities, into the content of the e-mail.

In the messages, which were first reported by The Wall Street Journal, Landis accused other top American cyclists on the Postal Service team, including Armstrong, of using performance-enhancing drugs and methods. Other cyclists named were current United States road racing national champion George Hincapie, three-time Tour of California champion Levi Leipheimer and five-time United States time trial champion David Zabriskie.
Yes, he just wanted to clear his conscience…and a bunch of other people's while he was at it. Thus far there has been no reaction from Armstrong, though he was Twittering away last night. However, one imagines he will called to account sooner than later.
Update: Lance responds (answer: he didn't).
Have a tip we should know? tips@mediaite.com