Fmr Sanders Spox: I Stand By My 'White People' Comments; It's Time for a DNC 'Chair of Color'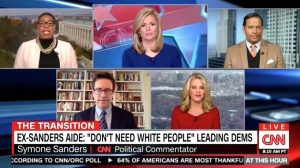 During a panel today on CNN, Symone Sanders said that she's doubling down on her head-turning quip that "we don't need white people leading the Democratic party right now."
The former Bernie Sanders spokeswoman uttered the remarks during a Wednesday panel, where she said that the Democratic National Committee needs to better reflect American diversity. When asked today if she wanted to clarify, Sanders said she meant what she said and that "it's past time for an elected chair of color."
"I think representation matters. The base of the Democratic Party is White people, Black people, Latinos, Hispanics, Native Americans, gay, straight, all different types of religions. I really think that it's important if you go out there and speak to those people in the base, there is a need and a want for a chair of color. I stand by that. You need different people out there to fight for different things and I am here fighting for millenials of all backgrounds, all races, but I'm definitely also fighting for all Brown people, all shades of Brown, Latino, African-American, Native American, Asian American, so on and so forth. We need that representation, not just in the chair's position but in other places throughout the Democratic National Committee and throughout the building…I stand by that. I know that makes some people uncomfortable, but somebody's got to be out here fighting for the folks, and that's me."
Donald Trump adviser Steve Cortes responded by saying that the Democratic "fixation" on identity politics hasn't worked out for them, and that people chose Trump for president out of a greater interest in economic recovery. "Enough of the identity politics," Cortes said, "we are Americans, and as Americans, we need economic growth and security."
As Sanders and Cortes argued on how America should address racial "intersectionality" issues, the conversation moved towards whether Democrats and Republicans need to focus on racial justice together. Cortes responded by saying that Americans don't want politics that appeal to people on a race basis, and that economics and security are a more uniting focus.
"Because building a wall is not divisive," Sanders snapped back.
Watch above, via CNN.
[Image via screengrab]
— —
>> Follow Ken Meyer (@KenMeyer91) on Twitter
Have a tip we should know? tips@mediaite.com