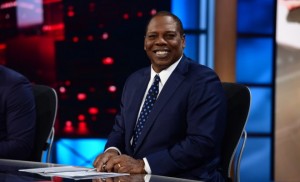 After 29 years at ESPN, Tom Jackson is retiring from broadcasting.
The decision to sign off comes amidst rumors that Jackson was about to be dismissed from NFL Countdown, ESPN's Sunday morning pregame show, and asked by network brass to move to a new and undoubtedly lesser platform.
Many fans fondly remember Jackson's legendary partnership with Chris Berman on NFL Primetime, a highlight show which aired on Sunday evenings after NFL doubleheaders. That show was dealt a death blow, however, when NBC purchased the exclusive right to show game highlights early Sunday evenings before Sunday Night Football. 
Berman, who is preparing to call it quits himself, is feeling all the feelings about his colleague's retirement. Via press release:
Every day working with Tom was a treasure. I know every day he appeared on ESPN was a treasure for football fans. His knowledge, his passion, his insight, and his overall joie de vivre makes him special – in fact, makes him unique. I was lucky to spend 29 years of football weekends with him. In television that's almost two lifetimes. Johnny Carson and Ed McMahon were together for 31 years – enough said.

Tom long ago became almost a brother to me. We completed each other's sentences, listened to the same music, laughed together and sometimes cried together. Oh yes, we enjoyed football together. What was a day with Tom Jackson like? Like the Temptations sang, 'I've got sunshine on a cloudy day.
Jackson's ESPN tenure concludes this weekend, where he will broadcast from the Pro Football Hall of Fame festivities in Canton.
[image via ESPN Images]
–
Follow Joe DePaolo (@joe_depaolo) on Twitter
Have a tip we should know? tips@mediaite.com
Joe DePaolo - Senior Editor