Football Team Wins American by Printing 'The Star-Spangled Banner' on Their Uniforms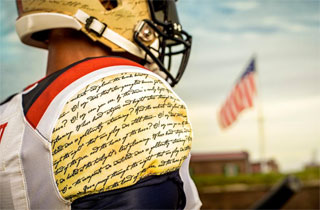 Out of all the football teams that purport to love America, the University of Maryland Terrapins love America the best. They love America so much, that they'll turn America's national anthem into their football uniforms.
To honor the 200th anniversary of the Battle of Baltimore — which inspired Francis Scott Key to write "The Star-Spangled Banner" — the Terps teamed up with Under Armour to create these beastly uniforms. The helmets and sleeves, as well as the soles of their cleats, show Key's handwritten copy of "The Defence of Fort Henry," which later became the National Anthem.
In an extra dorky/badass touch, the player's names will be replaced with the word "TRIUMPH," and their pants will include the phrase "CONQUER WE MUST," a line from "The Defence of Fort Henry" that didn't make it into "The Star-Spangled Banner." (We could not confirm whether they printed "MANIFEST DESTINY" on their jock straps, but we wouldn't be surprised.)
TRIUMPH in the CONQUEST of their uniforms below:
Sat. @MarylandPride gears up in Honor of the 200th Anniv. of the Star Spangled Banner. @UnderArmour #GoTerps #TeamUA pic.twitter.com/NSHkAUTH4g

— Maryland Athletics (@umterps) September 9, 2014
The helmets feature an outline of Fort McHenry and the U.S. flag that inspired our national anthem. #GoTerps #TeamUA pic.twitter.com/anfzj1FlCk

— Maryland Athletics (@umterps) September 9, 2014
The jersey sleeves, helmet & footware highlight the poem "Defence of Fort McHenry" #TeamUA #GoTerps pic.twitter.com/RAFjec11at

— Maryland Athletics (@umterps) September 9, 2014
Team captains will don red belts as American military captains did during the battle. @UnderArmour #TeamUA #GoTerps pic.twitter.com/ohPQqc9Do3

— Maryland Athletics (@umterps) September 9, 2014
[h/t Deadspin]
[Image via Maryland Athletics> Follow Tina Nguyen (@Tina_Nguyen) on Twitter
Have a tip we should know? [email protected]