For Some Reason WaPo Debunks Life of Woman Who Got Job Interview During Trump Presser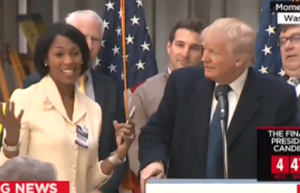 It seems like years ago in news time, but it was just this past Monday when Donald Trump interrupted a press availability to offer a woman in the crowd what amounted to an impromptu job interview. That woman, 38 year-old Alicia Watkins, is now having her spot blown up by The Washington Post. As it turns out, Watkins has garnered media attention in the past, including this spot on Oprah Winfrey's OWN network:
The Washington Post picked through Watkins' past statement, claims, and media reports, and asked her to explain some discrepancies, such as whether she was in New York or at the Pentagon during the 9/11 attacks:
In an interview with The Fix, Watkins insisted she never claimed to be in New York or that she enlisted after 9/11 (her actual enlistment date was Nov. 10, 1998). She also said she has a video recording of the address that supports her denials and would try to locate it. (First questioned about the discrepancy on Tuesday evening, Watkins had not supplied the video by Friday morning)

The Air Force website completely misrepresented her remarks, Watkins said, but she has never tried to correct the errors — because she has "no faith in the media to fix the mistakes."

(I pointed out that the false information was posted not by "the media" but by the Air Force base where she was stationed at the time; Watkins rejected the notion that the Air Force is not part of the media.)
Watkins also stands accused of padding her time in the military and her educational record, since she attends Harvard Extension School and not regular Harvard. A Trump spokesperson told the paper that "obviously had no knowledge of this person or her background prior to the interaction," but it remains to be seen if this all disqualifies Watkins from employment by Trump.
This is an opinion piece. The views expressed in this article are those of just the author.