Fordham University President Scolds College Republicans For Booking Ann Coulter, 'Repugnant' Speech
Fordham President Scolds College Republicans For Booking Ann Coulter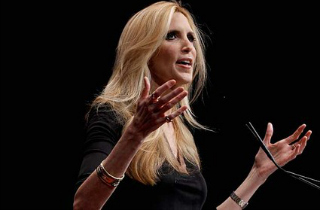 Mediaite has obtained a letter from Fordham University President Joseph M. McShane to the student body in which he strongly rebuked the school's College Republicans group for booking conservative columnist Ann Coulter to speak on campus later this month, ultimately concluding that despite her "repugnant" speech the university will allow the event so as to uphold the university's "tradition of fearless and robust engagement."
"The College Republicans, a student club at Fordham University, has invited Ann Coulter to speak on campus on November 29," the letter began, adding that despite her views being "unpopular," the university will not block her from speaking.
However, he wrote, "to say that I am disappointed with the judgment and maturity of the College Republicans, however, would be a tremendous understatement. There are many people who can speak to the conservative point of view with integrity and conviction, but Ms. Coulter is not among them. Her rhetoric is often hateful and needlessly provocative—more heat than light—and her message is aimed squarely at the darker side of our nature."
The letter continued:
As members of a Jesuit institution, we are called upon to deal with one another with civility and compassion, not to sling mud and impugn the motives of those with whom we disagree or to engage in racial or social stereotyping. […] Hate speech, name-calling, and incivility are completely at odds with the Jesuit ideals that have always guided and animated Fordham.

Still, to prohibit Ms. Coulter from speaking at Fordham would be to do greater violence to the academy, and to the Jesuit tradition of fearless and robust engagement. Preventing Ms. Coulter from speaking would counter one wrong with another. The old saw goes that the answer to bad speech is more speech. This is especially true at a university, and I fully expect our students, faculty, alumni, parents, and staff to voice their opposition, civilly and respectfully, and forcefully.
Ultimately, McShane concluded, the College Republicans "have unwittingly provided Fordham with a test of its character: do we abandon our ideals in the face of repugnant speech and seek to stifle Ms. Coulter's (and the student organizers') opinions, or do we use her appearance as an opportunity to prove that our ideas are better and our faith in the academy—and one another—stronger? We have chosen the latter course, confident in our community, and in the power of decency and reason to overcome hatred and prejudice."
Coulter's appearance has reportedly been the subject of controversy at the university. Several student groups have rallied in protest of her upcoming speech, but as the letter indicates, the event will go on.
UPDATE: The school's College Republicans have rescinded their invitation to Coulter. Several of the club's members tell us they disagree with this cancellation, but in another letter obtained by Mediaite, the school president praises their decision wholeheartedly:
Late yesterday, Fordham received word that the College Republicans, a student club at the University, has rescinded its lecture invitation to Ann Coulter.

Allow me to give credit where it is due: the leadership of the College Republicans acted quickly, took responsibility for their decisions, and expressed their regrets sincerely and eloquently. Most gratifying, I believe, is that they framed their decision in light of Fordham's mission and values. There can be no finer testament to the value of a Fordham education and the caliber of our students.

Yesterday I wrote that the College Republicans provided Fordham with a test of its character. They, the University community, and our extended Fordham family passed the test with flying colors, engaging in impassioned but overwhelmingly civil debate on politics, academic freedom, and freedom of speech.

We can all be proud of Fordham today, and I am proud to serve you.
[h/t Frances Martel]
— —
>> Follow Andrew Kirell (@AndrewKirell) on Twitter
Have a tip we should know? tips@mediaite.com