Former Bush Aide Calls Trump a 'Danger' to America: 'Hillary Would Beat Him From Jail'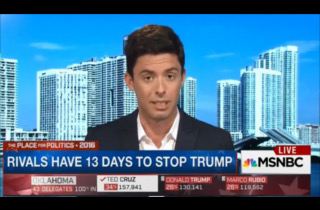 With his unconventional approach to politics and his myriad of controversies, it might not be a surprise that Donald Trump draws major unfavorable numbers these days as a counter-balance to his following. Tim Miller, a spokesman for the Our Principles anti-Trump PAC, capitalized on this by saying on Off Message with Glenn Thrush that the GOP must brace itself for the inevitability of Trump's defeat and internal party turmoil.
Looking back at his time working for Jeb Bush's campaign, Miller acknowledged that the effort might have been doomed from the start due to the environmental conditions that allowed Trump's campaign to grow. Nonetheless, Miller continued to say that Trump is not nearly as successful or politically savvy as he thinks he is, and that his nomination would spell almost certain victory for Hillary Clinton.
GLENN THRUSH: But let me ask you something. If Trump is the nominee and Hillary is indicted — one I think is more probable than the next–

TIM MILLER: Hillary would beat him from jail.

GLENN THRUSH: That's — okay, there we go.

TIM MILLER: [Laughs] Hillary would beat him from jail.

GLENN THRUSH: Thank you. We just have our headline. We can shut this thing down now.
[Laughter]

TIM MILLER: I'm telling you. That's how unpopular he is. It's crazy.
Miller went on to say that even though Clinton would be "America's worst president ever," he and other conservatives would accept that end instead of the "danger to the Republic" Trump poses. Miller also said that Our Principles would probably be willing to support a "Candidate X" if someone on the right were to launch a third-party bid to salvage the Republican Party.
Even if a third party candidate didn't emerge, Miller elaborated that the PAC would continue to rehabilitate the GOP's image and broader policy approach in the areas where Trump burned the most bridges.
Listen above (the relevant part starts at 21:25), via Politico.
[Image via screengrab]
— —
>> Follow Ken Meyer (@KenMeyer91) on Twitter
Have a tip we should know? tips@mediaite.com