Former DIA Head: Obama Ignored ISIS Intel That Challenged Reelection 'Narrative'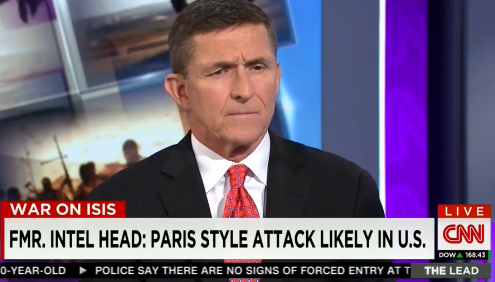 Former head of the Defense Intelligence Agency Lt. Gen. Michael Flynn told CNN's Jake Tapper Tuesday that leading up to the 2012 election, President Obama's advisors ignored intelligence predicting the rise of ISIS because it "did not meet a narrative the White House needed."
A 2012 DIA report suggested "an Islamic State, through its union with other organizations in Iraq and Syria" could destabilize the region and pose a threat to the unification of Iraq. As Tapper pointed out, "It was not long after [the DIA] issued that report that President Obama referred to ISIS as the 'jayvee team.'"
Asked why those warnings went unheeded, Flynn said, "The people that were around the president––his sort of inner circle" advised him to stick to a particular narrative.
"I think the narrative was that al Qaeda was on the run, and bin Laden was dead they're dead and these guys are––we've beaten them," Flynn continued. The former DIA head noted that while the U.S. was able to remove some high-profile terrorists, leaders "continue to just multiply."
"We have to get more realistic on what it is that we're facing, and we're not facing a bunch of criminals," Flynn said. "These are not criminals. These are hardcore radical islamists who have a deeply held belief. They're very well organized, they're very well led, and they have a vision of this world that is the complete opposite of what you and I would want for our own families."
Watch the video above, via CNN.
[Image via screengrab]
—
>> Follow Elizabeth Preza on Twitter (@lizacisms)
Have a tip we should know? tips@mediaite.com