Former Fox Anchor Who Was Dismissed By Ailes Is Shopping Around Tell-All on Him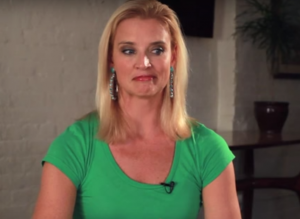 In 2008, Laurie Dhue was dismissed from Fox News. It came as no surprise, as she had been an alcoholic for years. Now that FNC is in the spotlight after another dismissal and it looks like CEO Roger Ailes is on his way out, Dhue's name has been being whispered among those who wonder if she, like Gretchen Carlson and Megyn Kelly, will come forward with stories of harassment from Ailes.
Now, it looks like she is coming forward with stories, all right, but it will remain to be seen if they are about harassment.
Lawyer for former Fox anchor Laurie Dhue says she's in process of writing a book that will "candidly discuss" her interactions with Ailes

— Gabriel Sherman (@gabrielsherman) July 21, 2016
More to come? Ex Fox star Laurie Dhue writing book "Will candidly discuss years at Fox News. Interactions, communications w/ #RogerAiles"

— Manuel Roig-Franzia (@RoigFranzia) July 21, 2016
As you can see, reporters from the Washington Post and New York Magazine are saying that they've heard she's coming out with a book about the media mogul.
Her lawyer also confirmed to the Daily Beast's Lloyd Grove that she's "in the process" of writing the book. He put it all like this:
Dhue—who worked for Fox News as a prominent anchor from 2000 until Ailes dismissed her in 2008, when she was escorted out of the building by security guards—was originally planning her book as a novel, I'm told, because of her apprehension over dishing on Ailes and others. But she decided to write a non-fiction account—which will also include her experiences as a producer and on-air personality at CNN and MSNBC, as well as her struggle with and recovery from alcoholism—after Carlson's lawsuit and other women began to speak out about their treatment by Ailes.
Just as it appears that Carlson's allegations paved the way for Kelly's, it looks like the bevy of allegations that are coming out now have bolstered Dhue's choice to write the book honestly. Kelly is said to be marshaling other allegedly harassed women against Ailes as well..
The lawyers investigating the claims against Ailes have not yet to spoken to Dhue, according to this report:
New: Statement from lawyer for ex-Fox host @RealLaurieDhue says she has not yet been interviewed by Paul, Weiss… pic.twitter.com/kbGAbjNYPi

— Brian Stelter (@brianstelter) July 21, 2016
At present, it is not clear when the book will come out and which publisher will retain the rights, but it seems certain enough that the book is forthcoming and Ailes' name will be removed from his office door long before it arrives.
[image via screengrab]
For more from Lindsey: Twitter. Facebook.
Have a tip we should know? tips@mediaite.com