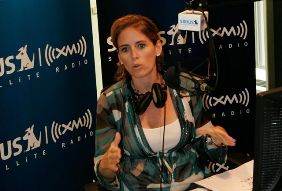 Former Fox Business Network anchor Alexis Glick has appeared on CNN and ABC News this year.
Now she's talking business in a new arena – as a guest host on Sirius XM.
Glick was a morning show anchor as well as a Fox News executive (Update: She was hired before the business network launched, but she was transitioned to an FBN exec quickly), before leaving in December. She previously worked at NBC's Today show. She also keeps fans up-to-date through her Twitter feed.
But yesterday and today, from 3-6pmET, she's filling in as guest host of Pete Dominick's (a CNN contributor) radio show. "What kind of solutions do you want to hear?" she asked listeners before taking calls yesterday. "I'm worried if we don't address different types of solutions quickly it's going to get uglier."
Sirius XM's announcement:
Alexis Glick, former CNBC and Fox Business Network anchor, will hit the satellite radio airwaves this week when she guest hosts Pete Dominick's daily show "Stand Up with Pete Dominick" on SIRIUS XM's P.O.T.U.S. channel. P.O.T.U.S. (SIRIUS 110/XM channel 130) is SIRIUS XM's non-partisan channel dedicated to the "Politics of the United States." Glick gets behind the mic to riff on headlines of the day and take calls from around the country on Wednesday, August 11 and Thursday, August 12 from 3:00 – 6:00 pm ET.
It will be interesting to see where Glick eventually ends up full-time. CNN has been a rumored possibility.
Here's some of yesterday's show:

—–
» Follow Steve Krakauer on Twitter
Have a tip we should know? tips@mediaite.com