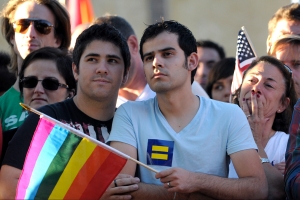 After deciding last week that California's Proposition 8 was unconstitutional, Judge Vaughn Walker has ruled today to lift the temporary stay on his ruling. This allows same-sex couples to marry within the state again, and reports are saying the first official day of same-sex marriages in California will be August 18th.
From the official decision handed down by Judge Walker:
None of the factors the court weighs in considering a motion to stay favors granting a stay. Accordingly, proponents' motion for a stay is DENIED… That judgment shall be STAYED until August 18, 2010 at 5 PM PDT at which time defendants and all persons under their control or supervision shall cease to apply or enforce Proposition 8.
Evan Wolfson of Freedom To Marry has released an official statement in support of the ruling (via Towleroad):
"California is now the sixth state where same-sex couples share in the freedom to marry. As the Governor, the Attorney General, and Judge Walker have all concluded, there is no good reason to continue excluding same-sex couples from marriage. Same-sex couples across California can once again share in the respect and personal significance of marriage, as well as the critical safety net of protections and responsibilities that marriage will bring to their families. We are witnessing a growing consensus in America that loving and committed same-sex couples deserve the same respect and the same rights as everyone else. Americans on all sides of the aisle, from Laura Bush to Bill Clinton, have embraced the reality that the freedom to marry helps families, while hurting no one. As same-sex couples in California today celebrate their love, commitment, and equal protection under the law, a majority of Californians and a majority of Americans support their right to marry."
No word yet on whether groups in favor of Proposition 8 will make another legal campaign against the ruling, though the repeal will certainly be a fixture in campaign rhetoric for this year's midterm elections. The report from Fox News' Studio B below, followed by a .pdf of the court's ruling:


[AP photo via Newsweek]
Have a tip we should know? tips@mediaite.com