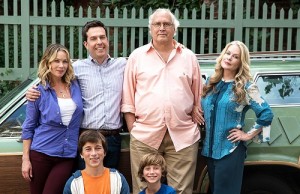 If you're reading this Mediaite article, then chances are you've heard of P.J. O'Rourke before. He's a frequent guest on Real Time with Bill Maher, and often pops up as a panelist on NPR's news quiz show, Wait, Wait… Don't Tell Me! However, before all this TV time came about, O'Rourke got his start as a humorist and writer, and even served as the editor-in-chief of National Lampoon.
Hence why O'Rourke just published a guest column in The Hollywood Reporter eviscerating the new Vacation movie, a kinda sorta remake of the original National Lampoon's Vacation, but without the magazine's name affixed to it. Then again, that probably has something to do with the fact that National Lampoon printed its last issue in November 1998. O'Rourke laments that in the column, too.
The curmudgeonly reminiscence begins appropriately enough:
A new Vacation movie is scheduled to be released — or allowed to escape — on July 29. To judge by the obvious, pitiful, frenetic, stupid raunchiness of its trailer, it belongs to the genre known as "post-humoristic."

The movie declares itself to be a remake of National Lampoon's Vacation, the 1983 classic of obvious, pitiful, frenetic, stupid innocence. But the words "National Lampoon" are never mentioned in the trailer.
But O'Rourke's condemnation of the new film becomes a painful nostalgia trip about the magazine itself, especially since "the magazine began sinking" during his tenure as EIC from 1978 to 1980. He spends some time with self-deprecation, blaming himself for the magazine's downfall that followed in the '80s and '90s.
Yet the success of the magazine, especially in regards to its many staffers and associates who went on to star in National Lampoon-affixed films and Saturday Night Live, shares some of the blame too. Basically, O'Rourke opines that all the money everybody started making caused it all to crumble:
If you see a pattern, it's called money. What do you think the proper comparison would be between how much [John Hughes] was paid for writing National Lampoon's Vacation and how much I paid him for the short story "Vacation '58," upon which the movie was based? If you're thinking chalk and cheese, you like to eat chalk better than John did.
Once everyone jumped onto much larger ships, O'Rourke suggests, the magazine began to fail. The talent pool wasn't as good, and advertisers began to leave in droves — especially when National Lampoon pulled stunts like "[publishing] an illustration of Mick Jagger performing fellatio on a microphone" next to a full-page ad for a Japanese audio equipment manufacturer.
But let's not forget why O'Rourke is writing a column for THR: making fun of the new film. He sure as hell doesn't towards the end of the piece:
What was so much fun about the original National Lampoon's Vacation was its maniacal expression of the love-and-hate relationship between weird hip sensibilities (Hughes) and even weirder normal middle-class values (Clark Griswold).

That kind of fun can't be had in the 21st century, where there are no normal middle-class values, all the Clark Griswolds are alienated, sarcastic and cynical, and every suburban schlub is a font of nihilism's dark, ironic genius.
Well that's a real bummer, man. I guess we should all follow O'Rourke's tongue-wrapped-around-the-cheek advice and go see Mission Impossible: Rogue Nation in the next theater, even though it's a sequel film in a series based on a television show. A "remake," if you will.
[h/t The Hollywood Reporter]
[Image via Warner Bros.]
— —
>> Follow Andrew Husband (@AndrewHusband) on Twitter
Have a tip we should know? tips@mediaite.com