NYPD Blames Arrest Slowdown on Morale, Not Being Liked: 'Cops Have Feelings, Too'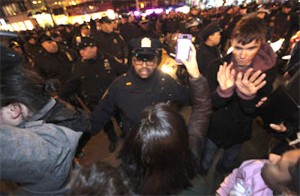 After the funerals of Officers Rafael Ramos and Wenjian Liu, low-level and drug arrests dramatically plummeted throughout New York City, leading many to blame the NYPD for organizing a slowdown to protest Mayor Bill de Blasio.
But according to the police and union heads, there's nothing deliberate about the 66% drop in arrest rates. As they told the New York Times, the cops are just super bummed right now:
Michael J. Palladino, the head of the Detectives' Endowment Association, said that while a stoppage was not sanctioned for detectives, in his opinion it was understandable.

"Cops have feelings, too," he said. "Now they are the targets of execution. That's enough to make anyone hesitate, regardless of your profession."

On New Year's Eve, officers mustering in the lobby of The New York Times before taking up posts in Times Square were told to stay alert and poised.

"There are people out there who don't like us," one supervisor told the mix of veteran officers and ones minted only on Monday. They then had a moment of silence for Officers Ramos and Liu, who, another supervisor said, "would want us to be professional."
Commissioner Bill Bratton also pointed out that other factors, other than gloomy morale, contributed to the drop: more police are working overtime to monitor the mass protests over the death of Eric Garner and the non-indictment of the cop who choked him. The weeklong period of mourning for the two murdered cops, as well as the massive turnout for their funerals, contributed to the strain in resources — and don't forget the holiday season. "I would point out it has not had an impact on the city's safety at all," he emphasized.
But ironically, critics of the NYPD said that the slowdown was exactly what they were calling for. "It's officers deciding on their own to, in effect, scale back on the application of broken-windows policing," Robert Gangi, the director of the Police Reform Organizing Project, told the Times.
[Image via a katz / Shutterstock.com]
—
>> Follow Tina Nguyen (@Tina_Nguyen) on Twitter
Have a tip we should know? tips@mediaite.com