Former Obama Spokesman Bill Burton Whacks GOP Field For Toeing Tea Party Anti-Education Line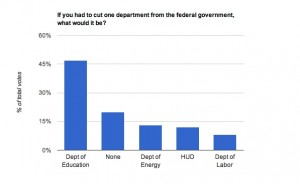 In a memo to reporters, former Obama Spokesman and current Senior Strategist for Priorities USA Action Bill Burton is calling out the current Republican presidential field for veering sharply from support for federal education programs, in an attempt to appeal to a Tea Party that's out of step with mainstream public opinion. Citing polls that show overwhelming public support for education funding, Burton blamed the Tea Party for "push(ing) the candidates far beyond the bounds of mainstream America."
Burton notes that "During the 2000 Presidential election, Governor George Bush's campaign launched a television ad that attacked the Clinton/Gore Administration for an 'education recession.'  The spot claimed that, 'Bush raised standards and test scores soared' and was a part of Bush's signature domestic campaign focus: improving education. That was before the Tea Party."
It was also before President Obama took office, a dividing line that has long belied the Tea Party's alleged non-partisan concern with government spending. Bush's No Child Left Behind program conspicuously did not lead to protests in the streets, at least not from conservatives.
Burton  notes how the anti-education shift became apparent at the recent GOP presidential debates. "Mitt Romney opposed attempts to decrease class size, Rick Perry attacked the Race to the Top Program, and most candidates proposed abolishing the Department of Education."
He cited several polls that show Republicans are out of step with the rest of the country, including a Texas poll that showed 82% of Texans opposed proposed public education cuts to balance the budget. "Republican statements in opposition to small class sizes, the Race to the Top program and the Department of Education are broadly outside mainstream American views."
The calculation isn't that tough to make out, though. At the recent Fox News/Google debate, a full 47% of their online audience said they would eliminate the Department of Education altogether, as opposed to the 74% of Americans who support keeping it. I asked Burton what he makes of that disconnect.
"This is no longer a nomination fight for the Republican Party," he told me, "it is for a Tea Party that has pushed the candidates far beyond the bounds of mainstream America."
Have a tip we should know? tips@mediaite.com