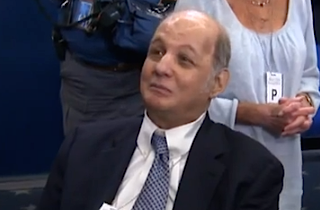 James Brady, who served as Ronald Reagan's press secretary and was injured during the assassination attempt on the former president, died Monday at the age of 73.
"Jim touched the lives of so many and has been a wonderful husband, father, friend and role model," his family wrote in a statement.
"We are enormously proud of Jim's remarkable accomplishments – before he was shot on the fateful day in 1981 while serving at the side of President Ronald Reagan and in the days, months and years that followed. Jim Brady's zest for life was apparent to all who knew him, and despite his injuries and the pain he endured every day, he used his humor, wit and charm to bring smiles to others and make the world a better place."
Brady was seriously injured when one of John Hinckley Jr.'s "devastator" bullets struck his forehead; initial news reports said he had died (an account of the rush to save his life can be found here.) Brady never recovered movement on his left side, and was confined to a wheelchair for the remainder of his life, in addition to suffering from slurred speech and memory lapses.
Though he maintained the title of press secretary throughout Reagan's two terms, deputies performed the actual press briefings. The White House press briefing room has since been renamed for him.
The shooting spurred his activism in favor of what became known as the Brady Bill. Passed in 1993, the law required background checks for firearm purchases. Brady remained an advocate for stricter gun control laws throughout his life.
In a CBS News interview from 2006, Brady said he was still scared of Hinckley, but was not bitter. "It's not classy to be bitter," Brady said. "And I try to be classy."
[Image via screengrab]
——
>> Follow Evan McMurry (@evanmcmurry) on Twitter
Have a tip we should know? [email protected]