Former White House Doctor: I Got Angry Phone Call From Chris Christie After Weight Comments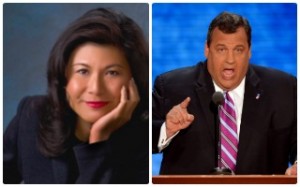 New Jersey Gov. Chris Christie recently poked fun at his weight, sharing some laughs and a donut with late-night host David Letterman. He was less keen on humoring former White House doctor Connie Mariano, however, who said she received a displeased phone call from the governor — after she expressed concern about his weight and health.
RELATED: Chris Christie, David Letterman Bond Over Fat Jokes… And Share A Donut
The spat of sorts began when Mariano — who was a doctor for Presidents George W. Bush and Bill Clinton — spoke to CNN earlier in the week and said that while she's a Republican who would support Christie, but as a physician she's "worried about this man dying in office."
Christie responded in his characteristically blunt fashion. "If she wants to get on a plane and come here to New Jersey and ask me if she wants to examine me and review my medical history I will have a conversation with her about that," he said in a news conference. "Until that time she should shut up."
She's "just another hack who wants five minutes on TV," Christie added.
And Mariano said Christie also called her and yelled at her.
"It was essentially the tone of the press conference only louder," she told 3TV in Phoenix. "It was hard to get anything across."
Per their report:
"I don't think he realized who he was talking to," Mariano told 3TV, adding that it's common for medical experts to weigh in on the health concerns of potential presidential candidates. "I think I'm qualified to make a comment."
[…]
"The way he acted lately I don't think so. He wasn't very nice to me," she said. "Politically if this is the way [he handles] stress… is this presidential? I'll have to think about that. Is this a presidential way to behave? C'mon."
Oof.
(h/t 3TV)
Have a tip we should know? tips@mediaite.com