Fox News Most Watched Basic Cable Channel in 2016; CNN, MSNBC See Big Gains For the Year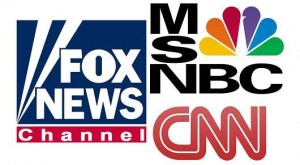 With the election grabbing so much attention this year, 2016 turned out to be a banner year for all three major cable news networks.
At the top of the heap was Fox News, who continued their lengthy run as the most watched cable news channel. Besides being king of the cable news mountain, Fox News was also nabbed the top slot among all basic cable channels and ranked only behind the four broadcast networks in terms of primetime viewership, averaging 2.4 million viewers and outdrawing ESPN, which finished sixth in primetime.
FNC's primetime number represents a yearly high for the network and an increase of 36% compared to 2015. Its total day viewership, 1.4 million, also was a milestone and represented a 29% over last year. The network also saw growth in the key 25-54 demographic, pulling in 481,000 (+42%) in primetime and 280,000 (+36%) in total day.
The other two cable news networks, CNN and MSNBC, also had reason to celebrate. CNN's primetime audience of 1.3 million was up 76% from 2015. The channel pulled in 423,000 in the 25-54 demo, representing an 80% increase over last year. MSNBC's primetime viewership showed the most growth from a year ago, with its 1.1 million tally coming in 87% than 2015 and the 25-54 demo total of 270,000 up 97%.
Regarding total day viewership, CNN's number of 753,000 viewers was up 54% and its 25-54 demo total of 232,000 showed 54% growth over 2015. As with primetime, MSNBC had the biggest gains year over year, with total viewership of 603,000 (+71%) and 25-54 coming in at 153,000 (+72%).
Drilling down to individual programs, Fox News had a lot to be happy about when it came to its primetime lineup. The O'Reilly Factor remained the top-rated show in cable news, topping all programs in total viewers (3.3 million) and the 25-54 demo (572,000), and experiencing double-digit growth compared to last year. The Kelly File enjoyed its best year since its launch, finishing as the second most watched program in cable news in both total viewers (2.7 million) and 25-54 (533,000). Another primetime program, Hannity, saw big gains over last year, with 2.3 million total viewers (+44%) and 511,000 in the demo (+46%).
On CNN, both CNN Tonight with Don Lemon and Erin Burnett OutFront experienced their best years ever. CNN Tonight posted a 69% increase in the 25-54 demo and 78% in total viewers. OutFront grew by 53% in total viewers and 46% in the demo. CNN also attracted the most primetime viewers of any channel on TV on Election Night.
MSNBC's program highlights included The Rachel Maddow Show giving the network its biggest 9 PM audience ever for both total viewers (1.4 million) and the demo (339,000). The Last Word with Lawrence O'Donnell also gave MSNBC its biggest 10 PM total viewership (1.3 million) ever, and its largest in the demo (277,000) since 2012.
As for the business news networks, CNBC pulled in a higher business day (187,000) and total day (170,000) for the year than Fox Business (154,000 business day and 128,000 total day). However, CNBC saw its numbers down for the year compared to 2015, with a decrease of 7% in business day and 12% in total day. Also, in the fourth quarter, Fox Business passed CNBC, pulling in 207,000 viewers in business day and 168,000 in total day, compared to CNBC's 179,000 business day tally and 157,000 in total day viewership. (FBN experienced huge growth in 2016 across the board and enjoyed its highest-rated year ever.)
[image via Fox News/CNN/MSNBC]
–
Follow Justin Baragona on Twitter: @justinbaragona
Have a tip we should know? [email protected]