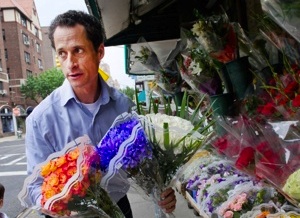 On Wednesday, an estimated 8.6 million people received an email from the New York Times that offered an enticing deal to renew home delivery at half price for 16 weeks. Many of those emailed weren't subscribers in the first place — the Times later said that only 300 people were supposed to get the letter. What happened in between the first email being sent out and the "oops" statement, however, is what caused FoxNews.com to bring up an Anthony Weiner comparison:
When former congressman Anthony Weiner's embarrassing photos emerged in June, he promptly lied, dissembled, and did everything possible to cover up the story. The Times appears to have a similar strategy.
At first, the Times said the email wasn't from them. But Jim Romenesko had an update-heavy thread on his site, pointing out that headers and "sent from" addresses all pointed to the Times having sent the email themselves.
Eventually, the Times sent out a second email, telling readers that the message was meant for 300 people, not the 8.6 million it accidentally emails. "We apologize for any confusion this may have caused," it read.
Weinergate material? In theory, perhaps — the Times could have just saved everyone a lot of time and said it was a mistake to begin with. But a cheesy promo code and four-month newspaper deal on the level with pictures of a man's private parts on your cellphone (and computer screen, and television screen, and newspaper front page)? It might be a bit of a stretch. Still, kudos to FoxNews.com for at least trying to sexy up an otherwise boring newspaper mini-scandal.
(h/t: Jen Doll, Village Voice)
Have a tip we should know? tips@mediaite.com