Fox's Baier Praises John Oliver for Covering Story Media 'Dropping the Ball On'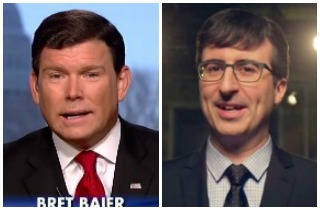 It's only John Oliver's first week at HBO, and he's already getting plaudits from at least one actual cable news journalist. Fox News' Bret Baier admitted in an interview with TVNewser that Oliver was spot-on in a critique of the media not covering a huge international story that should be important to American audiences.
In his debut episode, Oliver devoted a chuck of the show to the elections currently going on in India, the biggest election possibly ever, and mocked the U.S. media for ignoring this election, even when it has so many exciting elements that would actually make it good cable news fare.
Baier remarked how he always sees young people getting their news from people like Jon Stewart and Stephen Colbert before complimenting Oliver in particular for taking on this important story he's been neglecting.
John Oliver this past week did a pretty long piece about the elections in India and it was funny, but it was also penetrating about our business in that we have not focused on that… After I saw that, I said 'we are dropping the ball on that coverage.' And it's something that people, I think, need to know about, just for the betterment of us.
Baier also addressed the "welcome surprise" of Time's Joe Klein crediting him for having the only watchable cable newscast at 6 P.M. these days.
You can read the full TVNewser Q&A here.
[image via screengrab]
— —
Follow Josh Feldman on Twitter: @feldmaniac
Have a tip we should know? tips@mediaite.com
Josh Feldman - Senior Editor