Frank Caprio, Rhode Island Democrat, Tells Obama To Take Endorsement And 'Shove It'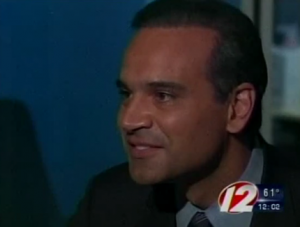 Well, this makes that SNL cold open just seem mild. In Rhode Island this morning, Democratic gubernatorial candidate Frank Caprio reacted kind of poorly to the news that President Obama would not be giving him a public endorsement. Caprio responded by saying that he didn't ask for the endorsement and that our president can go and "really shove it as far as [he's] concerned." Of course, that's nothing compared to his later remarks that the children who picked him last for kickball won't be able to play anymore, as the ball is his and he will be taking it home.
Caprio later clarified his remarks. He still doesn't care about the endorsement, but he does respect the president. From the Providence Journal:
"Caprio, the current state treasurer, made his comments outside a Sports Authority in the Warwick Mall. He said he chose that location to remind voters that President Obama did not visit the state when much of Rhode Island — including the mall — was hits by floods earlier this year.

He told reporters: 'I didn't seek the president's endorsement. The only endorsement I care about is from the people of Rhode Island.'

He said his remarks on WPRO, after learning that the president did not intend to endorse his candidacy during his visit to Rhode Island on Monday, 'show I don't care who's on the other side of the fight.'

'I respect the president of the United States,' he said. 'I respect him as commander in chief, but I don't like it when a trip to Rhode Island is politicized.'"
To make matters weirder, Obama will be in Rhode Island today at a fundraiser…to be attended by Caprio! Imagine a cold front to hit the Ocean State later today, caused by the incredible iciness of the two men's inevitable handshake.
Check out a video report on the comments as well as Obama's visit from WPRI 12.
Have a tip we should know? tips@mediaite.com