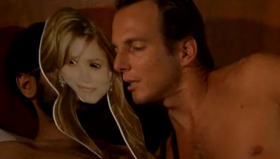 I've written before about Funny or Die as an essential platform for established artists looking to present a different side of themselves, send a message or just have ridiculous fun.
But what I realized just now after clicking on a video from their newsletter is that they are the only platform — besides maybe YouPorn — where the actual platform is synonymous with the type of content you'll find there. I'm not talking about channels on YouTube or Blip.tv or Kaltura, which are all certainly impressive — I'm talking about branding. Funny or Die is now the Kleenex of comedy videos — instant shorthand for what you're getting. It's like how for a while we all said "YouTube" even if we were referring to a video on, say, Vimeo ("Let's Vimeo this!" never quite made it into the popular lexicon.)
Funny or Die means two things: (1) Videos and (2) Comedy. If I am missing any other video platform that achieves the same effect — other than YouPorn! — please let me know. This is impressive, though. Remember the question mark hanging over Funny or Die after launch? Would "The Landlord" be a flash in the pan, would people watch non-Will Ferrell videos, would power — and profits — shift into the hands of the artists?
Well, the last one is still up in the air (though trending), but Funny or Die is here to stay. The site does pretty kickass traffic, averaging approximately 3.5 million uniques per month (see it to the right, compared against Gawker). This because of the answer to number two: Would people watch non-Will Ferrell videos? Why, yes, yes they would. That's because the non-Will Ferrell videos involve people like Jon Hamm and Natalie Portman and Lindsay Lohan and Mandy Moore Bradley Cooper and Rashida Jones and Will Arnett, which in turn buoy the less mainstream but up-and-coming comedy stalwarts like Rob Huebel and Jon Daly and Paul Scheer and Seth Morris. And, once you've got 'em in there for the biggies, it's just a click away to sample the lesser-known fare. It's the great Internet Circle of Life.
Funny or Die works for the same reason HuffPo works: Great incentives to submit your content for free. For one, "name" people established in one area are usually eager for the chance to establish in another. This is why Alec Baldwin, actor, is happy to contribute to HuffPo for free in order to be Alec Baldwin, pundit; this is why Mandy Moore appears in what would once have been a brand-despoiling faux commercial for, er, Red Bull used intimately. (And this is why I fully expect to see Joey McIntyre picked up for some comedic role sometime soon.) Also, thanks to the low barriers to entry — both in time spent and meddling outside forces — it's easy to get content up on both sites that is personal, in-the-moment and unconstrained by the approval of outsiders. It's great promo — we all know that. Finally, it's personally gratifying — whether by contributing to a cause you support, or just goofing off with your friends, it's easy to see why a celeb would want to throw up a Funny or Die video.
This isn't news — but it took a while to play out in real time, and prove that Funny or Die had a legitimate, lasting model (and, irony alert: The publication that wondered if the site would make it — in an article called "Will Ferrell and the End of Media as We Know It" — was… Portfolio, which died six months ago). Well it is — so much so that a video like the one below of Will Arnett and the guys from Human Giant can get a million-plus views — a million-plus — while flying totally under the radar of the mainstream press (check out Google: The Will Arnett/Human Giant 'sex tape' had no big-time mainstream push). Those are some serious community-based numbers. Incidentally, how I found it: By clicking on the above-mentioned newsletter which advertised an Anvil video — Anvil is a Canadian rock group that puts the "old" in "old-school metal," and I'm a supporter, so of course I clicked — but from there, I saw "Will Arnett Human Giant Sex Tape" and the next three minutes of my life were a foregone conclusion.
Was this all an elaborate excuse to post a Canadian band and a totally NSFW vid starring Will Arnett — who also happens to be Canadian? You'll never know, but at least you can be confident that Funny or Die is here to stay. Now watch these videos, they're funny.

Related, From The Past:
Will Ferrell and the End of Media as We Know It [Portfolio]
Have a tip we should know? tips@mediaite.com