Gangster Squad Trailer Played Before Dark Knight Rises Included Theater Shooting Scene (UPDATE: Warner Bros Pulls)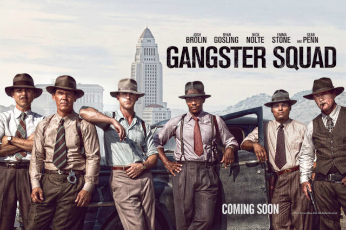 In what The Wrap characterizes as "a grim coincidence," it turns out that the trailer that played in theaters before The Dark Knight Rises was for the upcoming movie Gangster Squad and included a scene with trench-coated gangsters firing machine guns through a movie screen into a theater audience.
The scene is likely to be pulled from the movie, given its tragic coincidence with last night's Aurora, Colorado movie theater shooting during the midnight showing of The Dark Knight Rises which has left 12 people dead and at least 38 injured.
Warner Brothers offered no immediate confirmation as to whether the trailer will be pulled, but Deadline Hollywood's Nikki Finke claims the studio pulled the trailer after she complained.
The Ruben Fleischer-directed Gangster Squad is due for a September 7th release date. It is a blockbuster gangster drama set in 1940s Los Angeles, starring Ryan Gosling, Sean Penn, Josh Brolin and Emma Stone.
The trailer currently remains available online, and features the theater scene towards the end. As a movie begins, five gangsters open fire from behind a movie screen, tearing apart the screen with their bullets. As they step through the torn screen, they continue firing away.
The video has been blocked on YouTube for American viewers. See second update below. Watch the trailer below. (WARNING: In light of the tragic events in Colorado, some of this video may upset readers)
We found a version below:

UPDATE: According to Nikki Finke at Deadline Hollywood, Warner Bros scrambled to pull the trailer from screens early this morning and a new trailer, one without the movie theater scene, will be included in future previews.
SECOND UPDATE: According to Michael van Poppel, the trailer has been pulled from the Apple movie trailers page and has been blocked for American YouTube viewers.
(h/t The Wrap)
>> Follow Andrew Kirell (@AndrewKirell) on Twitter
Have a tip we should know? tips@mediaite.com