Gary Johnson Warns 'Religious Freedom' Laws Are a 'Black Hole' That Allow Discrimination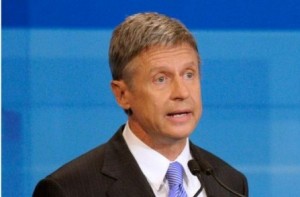 Libertarian presidential candidate Gary Johnson expressed his wariness regarding so-called "religious liberty" laws, arguing that they were too vague and "opened up a can of worms" because they essentially allowed anybody to discriminate on the basis of religion.
In an interview with the Washington Examiner published Thursday, Johnson speculated that religious freedom bills — such as the one signed into law last year by current Republican VP candidate Gov. Mike Pence in Indiana — could provide wide latitude to anyone who wished to discriminate against anybody else under the cover of "religious liberty."
Such laws could "open up a plethora of discrimination that you never believed could exist. And it'll start with Muslims," Johnson said.
Here's the issue. You've narrowly defined this. But if we allow for discrimination — if we pass a law that allows for discrimination on the basis of religion — literally, we're gonna open up a can of worms when it come stop discrimination of all forms, starting with Muslims … who knows. You're narrowly looking at a situation where if you broaden that, I just tell you — on the basis of religious freedom, being able to discriminate — something that is currently not allowed — discrimination will exist in places we never dreamed of.
In the same interview, he affirmed that legal abortion was the law of the land and he had no intention of trying to change it.
Especially given that the Trump campaign has assumed the mantle of the conservative Christian movement, Johnson's answers would seem to indicate that the Libertarian party has little design for picking off evangelical voters.
Asked if it was possible to be a social conservative and a libertarian at the same time, Johnson responded, "Absolutely. I think there are plenty of libertarians that are socially conservative. Absolutely. It's just this notion of don't force it on me."
—
Sam Reisman (@thericeman) is a staff editor at Mediaite.
Have a tip we should know? tips@mediaite.com