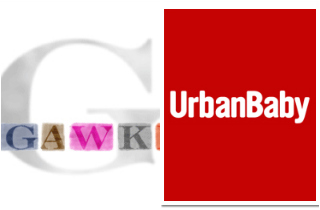 Following up on a New York Magazine story of attempted sabotage of a Horance Mann high school senior, Gawker writer J. K. Trotter tried to dig up some material from parent chat board Urban Baby, only to ignite a chain of angry, profanity-laden responses.
Background: the prep school Horace Mann recently revealed that someone sent college admissions boards a letter defaming a Horace Mann high school senior to torpedo that student's chances of admission. When it found out, the school mailed a letter to the Horace Mann community denouncing the action and pledging an investigation. New York Magazine published Horace Mann's missive, but Trotter was after the original letter sent to the colleges.
"Go wash your filthy c*nt you disgusting leech. F*ck off with that sh*t," was the first response. Next: "Aren't you ashamed to be writing for that lame outfit? You can't even call yourself a reporter. That's just trash mag. Go find another job where you can practice any talent you may have." Some went more sarcastic than nasty: "You go, Gawker reporter. Every single mom on this board (including your critics on this thread) is DYING to know the sordid details of a private school scandal. They're STILL asking questions about the Haunted House at Brearley and the magical disappearing 4th grade boys at Friends."
Take a looksee (click to enlarge):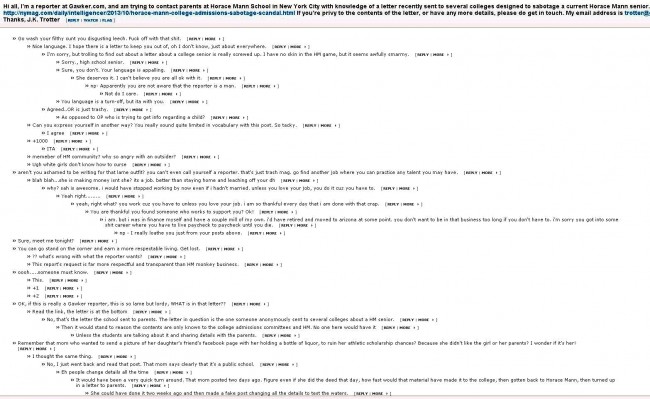 Not everybody was antagonistic. "What's wrong with what the reporter wants?" one poster asked. Another: "This report's request is far more respectful and transparent than HM monkey business." (All sic.)
And finally, the poster who justified Trotter's question in the first place: "OK, if this is really a Gawker reporter, this is so lame but lordy, WHAT is in that letter??" That's why Trotter's asking.
Have a tip we should know? tips@mediaite.com