George Conway Cites Article Mocking Trump's' Increasingly Pathetic and Impotent' Rage-Tweets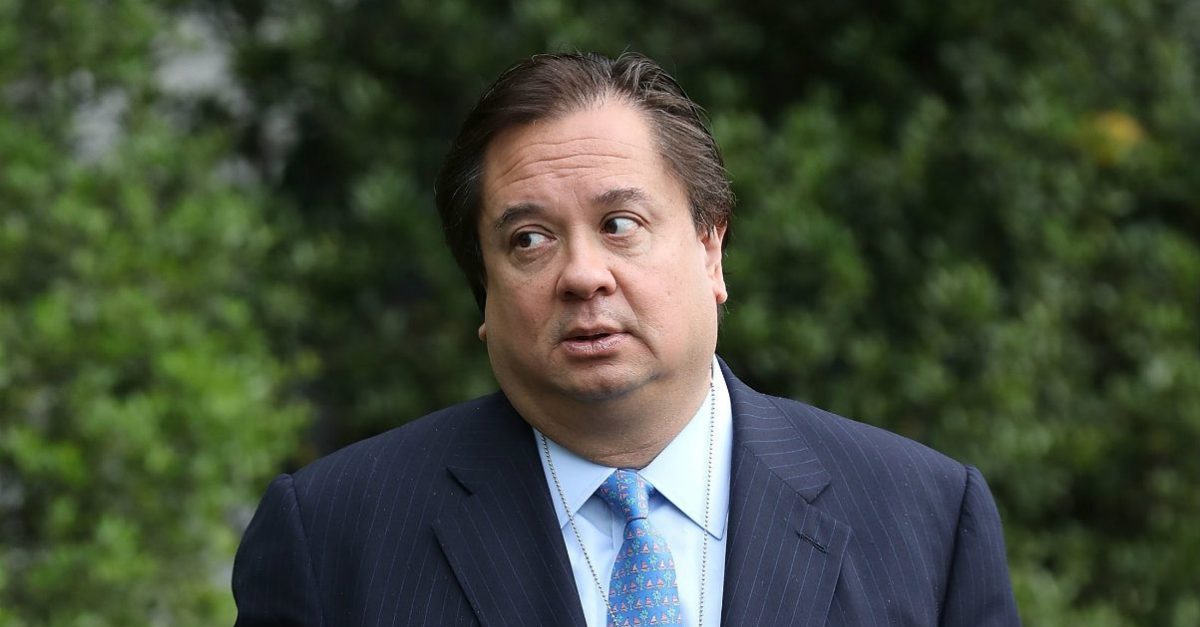 Once again, there's probably going to an interesting night in Kellyanne Conway's house, thanks to her husband's latest criticisms of her boss.
George Conway is back on Twitter to slam Donald Trump in light of his recent policy setbacks and questionable decisions on various fronts. First, he remarked on how many Republicans are bashing Trump as he flinches on the border wall and draws outrage for pulling U.S. troops out of Syria while claiming ISIS has been beaten.
Exactly right: "The extent to which Republicans are distancing themselves from the White House is a poor sign for a future where even more of the administration is under investigation. The signs of a collapse are here. The question is what pushes everything over the brink." https://t.co/DD6TlDxeK5

— George Conway (@gtconway3d) December 20, 2018
Later, Conway noted Vladimir Putin's delight over the Syrian situation, and he turned up the heat on Trump by implying he's a puppet of the Russian president.
That's *his* "audience of one." https://t.co/64PRrvfNDY

— George Conway (@gtconway3d) December 20, 2018
Finally, Conway cited a column that made fun of Trump's latest self-defensive tweets, saying they belie the president's "increasingly pathetic and impotent" political standing.
Along the same lines: "Trump's rage-tweets … are looking increasingly pathetic and impotent…. Trump's mounting legal travails raise bigger question marks for Republicans about how much worse this could get."https://t.co/bjNfvv7Nnm

— George Conway (@gtconway3d) December 20, 2018
As a bonus, here's a sampler of what Conway has been retweeting from others on Thursday.
If senior administration officials feel this way, it is time — actually, long past time — for them to step forward and say it publicly, with their names attached. https://t.co/banYL7zKqo

— Karen Tumulty (@ktumulty) December 20, 2018
Let's be clear. If Individual-1 were anyone other than president, the grand jury would have already indicted him. Yet, SDNY can prosecute the Trump Organization. Over 100 years ago in N.Y. Central v. US #SCOTUS recognized corporate criminal liability

— Jennifer Taub (@jentaub) December 20, 2018
President Trump deployed US military to the US border days before the midterm elections to prevent fake invasion of immigrants. Withdraws US military from actual war zone in Syria, contradicting what appears to be most of the US government and own stated policy in the process.

— Susan Glasser (@sbg1) December 19, 2018
Putin praised the plan, calling it the "right decision." The embassy is adding praise on Twitter. https://t.co/VUS0AYnIgT

— Josh Dawsey (@jdawsey1) December 20, 2018
[Photo via Getty Images]
— —
>> Follow Ken Meyer (@KenMeyer91) on Twitter
Have a tip we should know? tips@mediaite.com