North Korea Says It Won't Denuclearize Unless U.S. Removes 'Nuclear Threat' First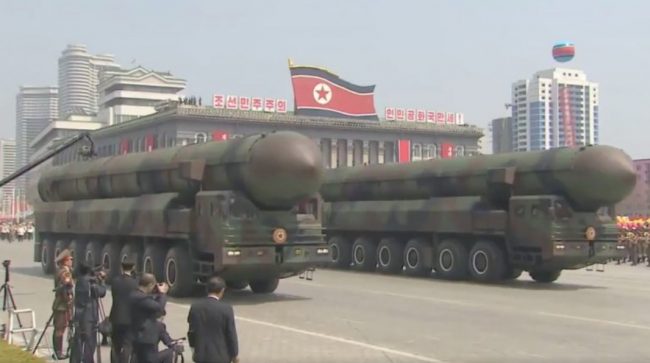 A new statement from the North Korean government says the Kim regime will not relinquish its nuclear weapons unless the United States also agrees to decommission what Pyongyang defines as a threat to itself.
Officials in Seoul picked up on an announcement from the state-run Korean Central News Agency, and it reaffirms North Korea's adamant refusal to give up their military assets. The news comes as Pyongyang and Washington continue to face a deadlock in negotiations for removing sanctions on North Korea in exchange for an end to their shows of international aggression.
From the announcement, as reported by Associated Press.
"If we unilaterally give up our nuclear weapons without any security assurance despite being first on the U.S. list of targets for pre-emptive nuclear strikes, that wouldn't be denuclearization — it would rather be a creation of a defenseless state where the balance in nuclear strategic strength is destroyed and the crisis of a nuclear war is brought forth…The corresponding measures we have asked the United States to take aren't difficult for the United States to commit to and carry out. We are just asking the United States to put an end to its hostile policies (on North Korea) and remove the unjust sanctions, things it can do even without a snap of a finger."
In the months following President Trump's summit with Kim Jong Un, both leaders have pursued agendas with differing ideas about denuclearization. While the U.S. is asking for the North Koreans to unilaterally dismantle their nuclear arsenal, NoKo says they will do no such thing as long as America maintains its military presence in the region to protect South Korea and Japan.
While Trump is reportedly pursuing another meeting with Kim and claiming their negotiations with each other are going well, critics have argued that he hasn't made any real progress with North Korea at all. These arguments are based on indications that the Kim regime is still secretly building up its nuclear infrastructure while finding ways to get around the sanctions against them.
— —
>> Follow Ken Meyer (@KenMeyer91) on Twitter
Have a tip we should know? tips@mediaite.com