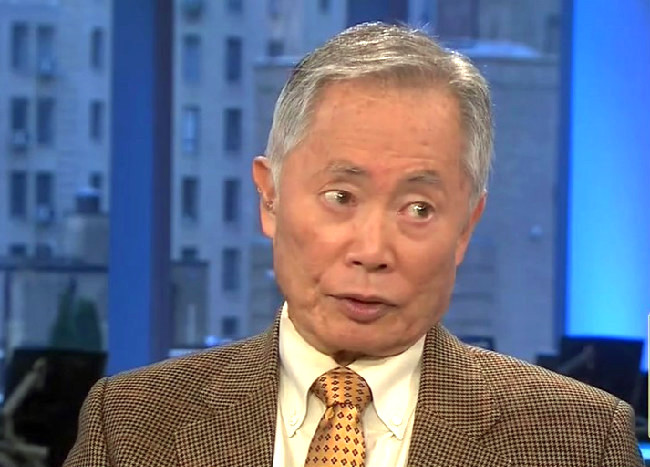 Sexual misconduct allegations are living long and prospering.
George Takei is now being accused of sexual assault by a former model in the actor's Los Angeles condo back in 1981.
Scott R. Brunton, who was 23 at the time of the incident, spoke to The Hollywood Reporter and claimed the Star Trek star "took advantage of him when he was most vulnerable."
"This happened a long time ago, but I have never forgotten it," he said. "It is one of those stories you tell with a group of people when people are recounting bizarre instances in their lives, this always comes up. I have been telling it for years, but I am suddenly very nervous telling it."
Brunton was working as a waiter while pursuing a career in acting and modeling when he met Takei at a bar. They had reportedly exchanged numbers and kept in touch over time. When Brunton broke up with his boyfriend, they reconnected.
"He was very good at consoling me and understanding that I was upset and still in love with my boyfriend," he said, recalling a dinner Takei invited him to. "He was a great ear. He was very good about me spilling my heart on my sleeve."
They went back to Takei's condo for drinks. Brunton recalled having drunk too much.
"I begin feeling very disoriented and dizzy, and I thought I was going to pass out," he continued. "I said I need to sit down and he said sit over here and he had the giant yellow beanbag chair. So I sat down in that and leaned my head back and I must have passed out."
Then this happened:
"The next thing I remember I was coming to and he had my pants down around my ankles and he was groping my crotch and trying to get my underwear off and feeling me up at the same time, trying to get his hands down my underwear. I came to and said, 'What are you doing?!' I said, 'I don't want to do this.' He goes, 'You need to relax. I am just trying to make you comfortable. Get comfortable.' And I said, 'No. I don't want to do this.' And I pushed him off and he said, 'OK, fine.' And I said I am going to go and he said, 'If you feel you must. You're in no condition to drive.' I said, 'I don't care I want to go.' So I managed to get my pants up and compose myself and I was just shocked. I walked out and went to my car until I felt well enough to drive home, and that was that."
Four friends of Brunton's confirmed he had spoken to them about this years ago.
Takei's rep told THR, "George is traveling in Japan and Australia and not reachable for comment."
The actor, a vocal LGBT activist, recently condemned Kevin Spacey for coming out of the closet amid his sexual assault allegations. Takei said, "When power is used in a non-consensual situation, it is a wrong."
Per THR, Brunton "found Takei's response infuriating."
UPDATE –– 11/11, 10:56 am ET: Takei tweeted a denial this morning, saying, "The events he describes back in the 1980s simply did not occur, and I do not know why he has claimed them now."
[image via screengrab]
Have a tip we should know? [email protected]