Geraldo Rivera Is Leaving His NCAA Championship Twitter Gaffe For the World to See (UPDATED)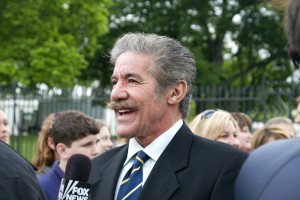 On Monday night, the Villanova Wildcats shocked the world by defeating the North Carolina Tar Heels on a buzzer-beating 3-pointer to win the NCAA National Championship. It was quite possibly the single greatest game in the history of college basketball, and I swear the fact that I'm a Nova grad has nothing to do with me saying so.
Geraldo Rivera was one of the many celebrities who took to social media after Villanova's Kris Jenkins won the game in the final seconds. But unlike most people out there who knew the two teams playing, Rivera slightly botched a detail:
#CarolinaPanthers didn't lose #NationalChampionship #Villanova won it.

— Geraldo Rivera (@GeraldoRivera) April 5, 2016
Technically the tango-twisting Rivera is correct; the Carolina Panthers (an NFL franchise) didn't lose the NCAA National Championship. In fact, they didn't even play, though they did lose Super Bowl 50. Hilariously, Rivera tweeted out his gaffe over eleven hours ago by the time of this post being published, and he still hasn't deleted it. He's leaving it, right there at the top of his Twitter feed, for everyone to laugh at.
Then again, as Mediaite mocked on Friday, we all know Geraldo loves to be on TV, and probably loves the attention; his Tweet has been Retweeted over 1.3K times. Who knows? Maybe it's all a ploy for some headlines, like this guy (maybe) did.
In either case, Rivera is right about one thing in my totally unbiased incredibly proud opinion of my own champion alma mater: Villanova "won it".
[image via Flickr]
UPDATED — 11:21 a.m. ET: At long last, Geraldo deleted his mistake, but here's a screenshot of the original Tweet anyway:

He has since replaced it with a version that correctly states the Tar Heels.
#CarolinaTarheels didn't lose #NationalChampionship #Villanova won it.

— Geraldo Rivera (@GeraldoRivera) April 5, 2016
This is an opinion piece. The views expressed in this article are those of just the author.