Getting Worse: Hydrogen Explosion At Fukushima Reactor Number Three (Video)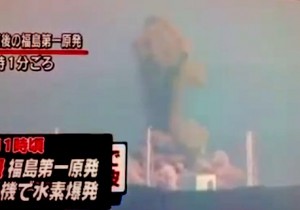 The aftermath of Friday's massive earthquake in Japan has led to what may even be an even larger worry. The Fukushima Nuclear Power Plant in eastern Japan has been out of control since the quake hit, emitting 1,000 times the normal level of radiation and threatening to melt down completely. An explosion rocked the debilitated plant yesterday, raising concerns of a possible meltdown. Now video of a second explosion at the power plant has hit the Internet, and while its uncertain the scale of disaster at this point, this can't be good news.
Writing for Bloomberg Business Week, More From Businessweek, Yuji Okada and Shigeru Sato report:
A hydrogen explosion occurred at Tokyo Electric Power Co.'s Fukushima Dai-Ichi No. 3 reactor at 11:01 a.m. local time today, Japan's Ministry of Economy, Trade and Industry said.

Tokyo Electric spokesman Daisuke Hirose said smoke was seen rising from the reactor. Japan's Nuclear and Industrial Safety Agency reported earlier pressure at the reactor had fallen and Prime Minister Naoto Kan said the situation remains a concern.

The pressure declined after rising earlier today, Hidehiko Nishiyama, deputy director-general at the safety agency, said at a media briefing. The Fukushima Dai-Ichi station lies 220 kilometers (135 miles) north of the Japanese capital.

Asia's largest utility is seeking to avoid a meltdown of at least two reactors at the nuclear power station by flooding them with water and boric acid to eliminate the potential for a catastrophic release of radiation into the atmosphere. The station lost power to keep the reactor core cool after the March 11 earthquake, the largest ever recorded in Japan.
Watch the video of the explosion below:
Have a tip we should know? tips@mediaite.com