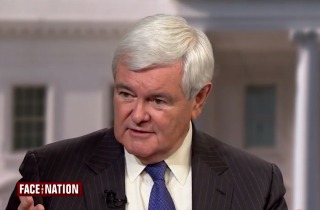 Former House Speaker Newt Gingrich defended embattled House Majority Whip Steve Scalise (R-La.) by bringing up President Barack Obama's association with Rev. Jeremiah Wright and questioning why Obama got a "pass."
"The president explained he didn't hear any of [Wright's controversial remarks about America], and we all gave him a pass," Gingrich told Bob Scieffer on Face the Nation, adding Obama made a "great speech" in Philadelphia as a candidate when he attempted to distance himself from Wright.
Gingrich also invoked former Sen. Robert Byrd, a Democrat who was a former member of the Ku Klux Klan. He also brought up words of support from Rep.-Elect Mia Love (R-Utah), who stood by Scalise, and Rep. Cedric Richmond (D-La.), who said Scalise does not have a "racist bone" in his body.
RELATED: Krauthammer: Obama's Rev. Wright Far Worse Than Steve Scalise's KKK Meeting
"For a 12-year-old speech to be blown up into a national story, I think, is frankly one more example of a one-sided view of reality," he added.
Meanwhile, GOP Sen. John Barrasso said Sunday morning that Scalise "made a grave mistake" if he spoke to the white supremacist group founded by former KKK grand wizard David Duke. Also, Fox News host Greta van Susteren said Scalise should have stepped aside. Duke was confronted about whether Scalise actually did speak at the European-American Unity and Rights Organization (EURO) meeting in 2002, and admitted he did not know for sure whether Scalise was there.
Watch the video below, via CBS News:
[Image via screengrab]
— —
>>Follow Andrew Desiderio (@forza_desiderio) on Twitter
Have a tip we should know? tips@mediaite.com