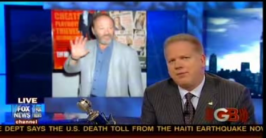 Oh to be a fly on the wall for this conversation. After all his hooting and hollering over Time, and in particular Joe Klein, Glenn Beck apparently had no qualms about attending last night's Time 100 bash…where, as luck would have it, he ran into said Mr. Klein. It apparently did not go well. May we present you the he said, he said.
Glenn Beck's blow-by-blow (almost literally) account (audio below):
I'm standing at the bar [ordering a non-alcoholic drink] and Joe Klein comes up and at first I think he's, I don't know, Robert Reich, you know I'm really bad with names and faces and everything else. You know how somebody just kind of inserts themselves into your conversation? And they stand uncomfortably close to make sure you notice them. And this person did that so I kind of turned to him and am like — I had to look way down because I think he's about 3 1/2 feet tall — and I'm thinking short bearded man, it must be Robert Reich…the guy I was talking to says "that's Joe Klein…and I said 'oh hey Joe' and the guy [Beck was standing with] said 'oh you got your pipe cause you should do your professor thing now, in front of him.' And I just looked at Joe and I said 'aannnyyy time.' If I had my pipe I would have done it!
Alas. But there's more.
And then he just got all in my face with his finger, and he's doing some hulk, strongman grip on my arm, and then he said 'yeah, maybe we should let go of eachother arms.' And I'm like, you are a jerk. And I said, Joe, I have never once questioned this president's birth certificate. You're wrong, you know you're wrong. Stop it. He said: You don't question his legitimacy? You question his policies and say his policies don't seem American to you, that's questioning his legitimacy…So I just said, you are wrong in almost everything you have ever written. Stop it. And I walked away.
And here is Joe Klein's slightly less detailed account:
A less enlightening meeting came at the Time 100, where Glenn Beck and I shook hands coolly. We talked about Miranda rights for alleged terrorists; we disagreed–I told him that I'd spoken with legal experts who believed there could be a limited exception in terrorism cases; he accused me of "shredding the Constitution." He scolded me for claiming that he was a birther. I said to him, "Well, when you say that there's 'nothing American' about Barack Obama, what does that mean?" He stalked away.
Conclusion: it was not a pleasant meeting. And Glenn Beck left first. Discrepancies aside, I find it strangely comforting that these two didn't try to make nice, which is what often happens at these media schmoozefests, and always strikes me as utterly disingenuous. Below Beck's audio. After the jump, Joe Klein and Glenn Beck: The Golden Years.



NEXT>>>>> Joe Klein and Glenn Beck: The Golden Years
Have a tip we should know? tips@mediaite.com