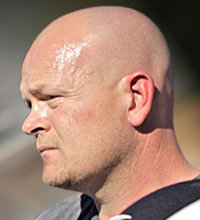 You'd have been forgiven for thinking you'd heard the last of Joe the Plumber, the most celebrated living metaphor of the 2008 presidential election (and, it turned out, neither "Joe" nor a "plumber" – although he is an author).
But he's (marginally) back. The Associated Press reported that Joe, whose real name is Samuel Wurzelbacher, won a spot as a Republican committeeman in Lucas County, Ohio. Wurzelbacher won a hotly contested 38-23 vote (though this account says 38-24 – scandal!) to become "one of nearly 400 committee members who set the agenda and pick a chairman for the local party."
As that description makes clear, this isn't very heady stuff. NBC's Domenico Montanaro had some fun with that fact, although maybe the most entertaining part of their coverage was the disconnect between the slogan of Firstread, the section of MSNBC's site where the story ran ("The first place for key political news and analysis"), and the headline directly below about Joe the Plumber. To his credit, Montanaro does make a solid joke in wondering whether he can refer to Wurzelbacher as "Plumber" on second reference.
Montanaro also notes that NBC News last year labeled Wurzelbacher as the 2nd-most-overhyped story of the Aughts. He and the rest of the NBC political team surely realize that placing a story about an election with barely 60 votes cast – on an outlet for "key political news and analysis," no less – contributes to such levels of hype, but in a way you can't blame them. After all, if there's one thing we proved as a nation during that 2008 election cycle, it's that we can't resist a good Everyman-sounding nickname. Time will tell if the Republican Party in northwest Ohio can't, either.
Have a tip we should know? tips@mediaite.com